Book your Pre-Summit Adventure, Day of Adventure, Post-Summit Adventure, Accommodation and Complimentary Airport Transfers directly on Ireland's Booking Portal – Deadline is September 1 for Adventures and Transfers and August 1 for Accommodations.
NOTE: You do not need a username or password when visiting the booking portal for the first time. Simply select your Day of Adventure and any accommodations you need. A confirmation email will be sent to you that will include a user name and password should you need to login back into the site to make changes.
Where will the Summit Take Place?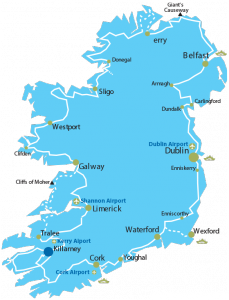 The Adventure Travel World Summit 2014 will be held at the INEC – Killarney in Kerry, Ireland.
The INEC is located less than 1 km from Killarney's town centre on the N71 (Muckross Rd) and is adjacent to the Gleneagle & Brehon hotels. Parking is free of charge at the INEC.

Official Air Booking Desk

ATTA's official air booking desk for the ATWS is Exito Travel. Please contact Exito directly to create your customized international flight arrangements. An Exito agent will be available on-site during the Summit to assist those who book through Exito, in addition to providing their usual booking support via phone and email.

Airports & Transportation
Airports
There are four airport options to fly into Ireland and connect to Killarney for the ATWS:
1.    Kerry Airport – Served by flights from Dublin, Manchester, London-Luton, London-Stansted and Frankfurt.  Only fifteen minutes to Killarney town Centre.
2.    Cork Airport – Just south of Cork City on the south coast. 1.5 hours to Killarney.
3.    Shannon Airport – North of Limerick City on the west coast. 2 hours to Killarney.
4.    Dublin Airport – North of Dublin City on the east coast. 4 hours to Killarney.
If you need to book a private transfer to and from the airport, please contact Advantage PCO directly at [email protected]
Complimentary Airport Transfers
Ireland is offering complimentary airport transfers to and from the four airports in Ireland and Killarney for the ATWS on SUNDAY 5th OCTOBER and FRIDAY 10th OCTOBER 2014.
Deadline to register: Monday 1st September 2014 – Only registered names will be allowed to board and transfers are on a first come first served basis.
Access Ireland's Complimentary Airport Transfers: http://app.certain.com/profile/form/index.cfm?PKformID=0×18477702846
Transportation for the Summit
Killarney is a beautiful town known for its accommodations, adventures, restaurants and people. The INEC is roughly a 20 minute walk from downtown Killarney or a quick 5 minute coach ride. Complimentary transportation will include:
Airport transfers on October 5th and 10th as noted above.
Transportation for all participants as part of the Day of Adventure departing from the INEC.
Morning and evening shuttles will be provided for all delegates to and from hotels booked on the Ireland booking portal to the INEC – exact transfer times will be available at the front desk of each of the hotels.
Subject to demand, a few shuttles will be available if delegates need to return to their ATWS hotel midday.
Public Transportation
TRAIN
Killarney Train Station is served by Dublin and Cork Trains.
BUS
Bus Eireann runs a countrywide Bus service to Killarney.

Booking Adventures and Lodging
Ireland is providing an online booking portal to book your Pre-Summit Adventure, Day of Adventure and Accommodations.
Pre-Summit Adventure
All ATWS delegates and guests are invited to enjoy one of many Pre-Summit Adventures for a nominal fee. Buyers, Travel Advisors and Media only may fill out the hosted Pre-Summit Adventure application to apply for a limited amount of hosted spots.
Day of Adventure
All registered delegates are invited to participate on the Day of Adventure, Monday, October 6th, free of charge.
Accommodations
Ireland has secured discounted hotel rates at 8 beautiful hotels in Killarney. Please note, local transportation will only be available for those booked on the Ireland Booking Portal.
Access Ireland's Booking Portal
If your travels have you arriving early or departing late, here is a list of recommended hotels near the airports (information provided by ATTA and local tour operators):
Dublin
Airport Hotels
Cork
Fota Island Resort
The Metropole
Jury's Inn
Shannon/ Limerick Area:
Oakwood Arms Hotel
The Strand Hotel
The Savoy Hotel
The Boutique George Hotel

Passports & Travel Visa
Every traveler must have a valid passport.
Citizens of the European Union (the 27 countries of the European Union EU, together with Iceland, Norway and Liechtenstein) and many other countries including USA, Australia, Canada, New Zealand and South Africa do not require visas to gain entry to Republic or Northern Ireland. Access the list of countries whose citizens do NOT require a visa.
For delegates who are citizens of countries that require a Visa, the ATTA can provide you with an invitation letter to assist you in your Visa application. Registered delegates only, fill out the Visa Letter Request Form. Your invitation letter will be delivered by email as a PDF file within five business days.

Guest Program
SOLD OUT – Please note all available guests passes have been sold.

Practical Information
WEATHER
The temperature in Killarney for the month of October averages 53°F/12°C – lows of 48°F/9°C and highs of 57°F/14°C. It is best to wear layers and bring a jacket in case of rain.
ATTIRE
As with all Adventure Travel World Summits, the attire is 'adventure casual'. An additional warmer jacket is recommended for cool evenings.
DIETARY REQUIREMENTS/MOBILITY LIMITATIONS
For delegates with special dietary requirements, allergies and/or mobility limitations, please note in the additional information on the Ireland Booking Portal when selecting your Day of Adventure and Accommodations. Ireland will do their best to accommodate your requests.
CONNECTIVITY
Please check with the hotel you will be staying at for additional information on internet connectivity. There will be free WiFi internet access during the Summit at the INEC.
ELECTRICITY
Electricity is 220V in Ireland and flat three-pin plugs are used.
MONEY
Since 2002, the currency used in the Republic of Ireland is the Euro (€).
TRAVEL PROTECTION & EMERGENCY EVACUATION
Delegates are strongly encouraged to secure individual travel insurance and medical evacuation coverage for the duration of their time spent traveling for the Summit.
Redpoint Resolutions is the official Rescue & Evacuation Provider of the Adventure Travel World Summit. Consider these ATTA Partners as well: World Nomads, Global Rescue.