Social Media Study: Travel, Tweets & Trends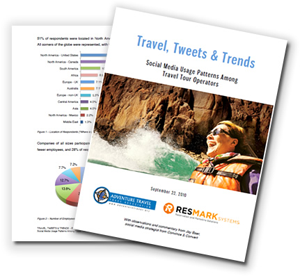 By ATTA, Resmark Systems, Convince & Convert
Representing the most current and comprehensive social media usage study yet conducted within the adventure tourism trade sector, the Adventure Travel Trade Association (ATTA), Resmark Systems and Convince & Convert have released, Travel, Tweets & Trends, a study that explores opportunities, concerns and best practices about social media usage within the adventure tour operator industry.
Responses from a 23-question online survey have been gathered from over 250 tour operators across five continents. In this 41-page whitepaper, Jay Baer, one of the world's most accomplished social media experts uncovers the answers to 9 key questions that every tour operator should be asking about social media.
What is the appropriate role of Facebook in a social media strategy?
What other social media outposts beyond Facebook should be considered?
Is a blog a worthwhile social media endeavor?
Is social media's impact being measured appropriately?
How much are tour operators spending on social media efforts?
Is social media more effective than other online tactics like email marketing?
What are the key objectives of social media participation?
How important is video and YouTube?
How many people in a company should be involved with social media?
Download a complimentary Exectutive Summary of Travel, Tweets and Trends. Purchase the full report for $50 complete with case studies and ideas of how you can better implement social media strategy within your own business.
ATTA Members: Get your Free Report!

Download your FREE copy of the Full Report on The HUB in the Research Center.
| | | |
| --- | --- | --- |
| | | |
| The Adventure Travel Trade Association is a global membership organization dedicated to unifying, networking, promoting and responsibly growing the adventure travel market. | Resmark Systems offers comprehensive tour operator software designed to manage all functions of the tour operator business from online reservations and marketing to finances and accounting. | Convince & Convert is a social media strategy consultancy that works with corporate clients and public relations firms on maximizing the impact of social media participation. |