AdventureConnect: Disruptive Networking Adventure at ITB Berlin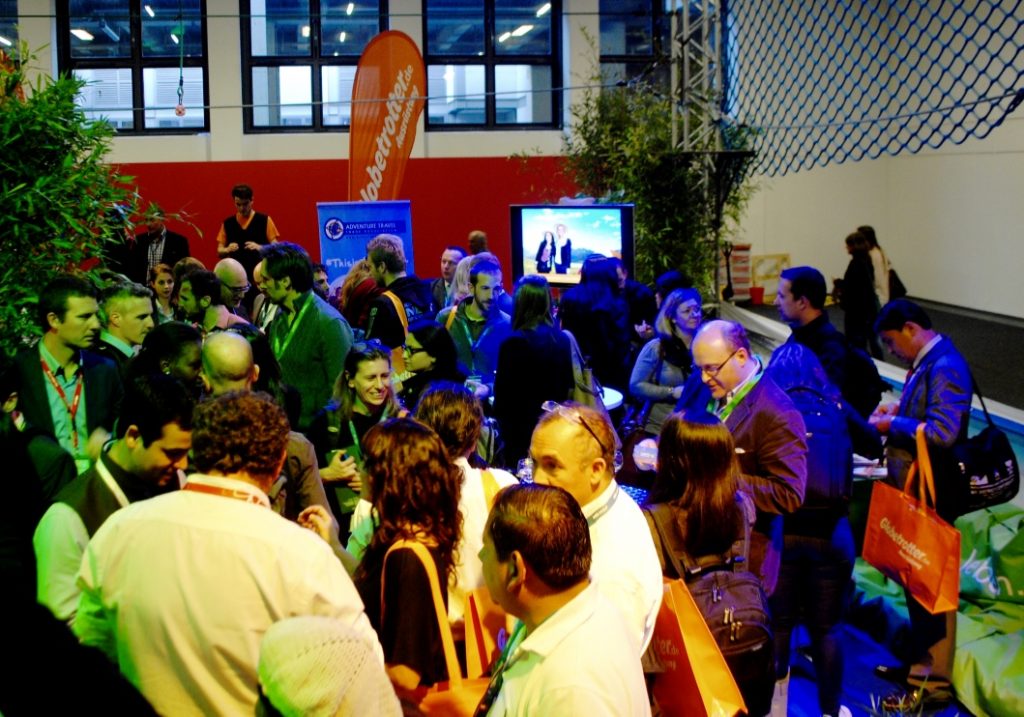 Due to overwhelming response, registration for this event is NOW CLOSED.
We invite you to visit the ATTA booth in the Adventure & Responsible Tourism Hall 4.1 / 214 during the show.
---
Back by popular demand, thanks to the ATTA's AdventureConnect ITB Berlin 2017 partners Best of the Alps and AdventureJunky, the ATTA will bring back the action-packed Disruptive Networking Adventure (DNA) event on 9 March between 16:00-18:00 in the Adventure & Responsible Tourism Hall 4.1 at Globetrotter's Stand #210. Last year, this AdventureConnect attendance peaked at over 200 participants!
This annual AdventureConnect gathering at ITB Berlin has proven to deliver productive networking among the passionate entrepreneurs and destination representatives of the burgeoning global adventure tourism sector–fostering collaboration, conducting business, and strengthening networks to unite, protect and lead responsible tourism efforts worldwide. At the DNA event, you'll have the opportunity share your story and hear others' using ONE WORD as an opening networking introduction to summarize what you and your company are about.
Among the creative outcomes participants can expect through ATTA community, we hope you will:
discover new connections to help your business or organization expand
establish quality relationships (vs. chasing business cards)
embrace professionals new to the adventure tourism sector
mentor others seeking guidance
share best practices
explore innovative paths to responsible tourism development
brainstorm on the most effective marketing and sales strategies
discuss the "big picture"
exchange ideas about what we're doing as passionate industry professionals to be brave, enact change and start a movement to positively impact the future of leisure tourism
ATTA team members will be on hand to meet with friends and members new and old, and share with prospective members about how to engage more deeply with our community.
Beverages and light hors d'oeuvres will be available to enjoy, courtesy of Best of the Alps and AdventureJunky, who will also be giving away travel prizes along with ATTA gear members and partners ExOfficio and Eagle Creek.
Registration and on-site check-in REQUIRED.
Come ready to engage and enjoy with your ONE WORD and plenty of business cards. And please, share this event with those in your circles whom you expect to attend ITB Berlin 2017.
As a part of the ATTA's overarching mission to serve as the hub and facilitator for responsible, profitable adventure travel businesses, destinations and media, AdventureConnect events offer our vibrant communities a chance to connect, network and grow. These events are hosted locally in destinations or conferences where the adventure travel community naturally gathers. AdventureConnects range from casual networking to group outings to structured peer-to-peer or educational roundtables. Access the full AdventureConnect event calendar for events near you.
Partners
Organizers
Attendees
Mónica Pujota a Napo Wildlife Center
Victoria Ade-Genschow The British Berliner
William Allen National Geographic Partners
Marcus Allender Pegu Travels
Esther Altena Better Places Travel
Lena Andersson Tourism in Skåne AB
Maksim Anosov Discover Kyrgyzstan
Nina Aridshvili Explore Georgia Ltd.
Pedro Armendariz Galápagos Center Expeditions
Gilles Audenaerde One Two Trek
Michel Awad Siraj Center
Tsolmon Baasai Active Adventure Tours Mongolia LLC
Jelena Babic Abacus Tours Croatia
Budimir Backovic Montagna Travel Montenegro
Ajeet Bajaj Snow Leopard Adventures Pvt. Ltd
GORKI BALOJANI BALOJANI DMC
Camila Barp ABETA - Associacao Brasileira de Empresas de Ecoturismo e Turismo de Aventura
Joe Baur Trivago
Otgonjargal Bayansan Active Adventure Tours Mongolia LLC
Miho Bender Katarina Line Ltd.
Laia Bergadà Canal Aniyami DMC Brazil
Bruno Bericat CULTURANDES ADVENTURE TRAVEL
Matt Berna AmeriCan Adventures
Antonia Bernhardt Generator Hostels
Sandra Bertholet Regional Tourist Office Mullerthal Region – Luxembourg's Little Switzerland
Mary Bess Mad River Boat Trips
Dzana Bordanic Via Dinarica
Ross Borden Matador Network
Eran Borochov Ollami.com
Nevena Bosnic Balkanvibe
PETROS BOUCHORIS RUNNINGREECE
JD Boyle Incredible Adventures
Miles Bradley AmeriCan Adventures
Caroline Bremner Euromonitor International
Simona Buonomo Caspin Journeys
Alex Buri kimkim
Tullia Caballero S-Cape Travel
Marta Cabral Rota Vicentina
Kathie Callum Oku Japan
Dawn Campbell Visit Anchorage
Kym Campton PEAK Destination Management Company
Deborah Carlin South Tyrol - The other side of Italy
Pierina Carranza Rainforest Expeditions
Jamie Casey Checkfront
Richard Casswell Indotrek
Matilde Casuccio El Perezoso Responsible Tourism
Liz Cheli Cheli & Peacock Safaris
Alberto Conte Sloways
Todd Copley The Adventure Spectrum
Rosa Costa - AZORES Futurismo Azores Adventures
Andrew Coulter TourConnect
Kate Cowan An Óige - Irish Youth Hostel Association
Sacha Craig Lewa Wilderness
Lydia Craig Lewa Wilderness
Robert Currie Futaleufú Adventure
Gantumur Damba Mongolian Tourism Association
Gana Damba Gantemur Active Adventure Tours Mongolia LLC
Suzy Davis Adventures for Singles
Heidi De Koninck Zuiderhuis & Vamos Expeditions
Polyana de Oliveira Viare Travel
Vladimir Dedndreaj Adventure Albania
Laura Deegan Passions of Paradise
Robert Deeley CycleVentoux
Elena Del Palacio Fitch & Asociados
Marie Cecile Delaire Remota Patagonia Lodge
Altanbagana Deleg Active Adventure Tours Mongolia LLC
Jack Delf Black Mountain Ltd
Cynthia Delgado TOURISM Santa Fe
Snjezana Derviskadic Via Dinarica
David DiGregorio CornerSun Destination Marketing
Joe Dodgshun Joe Dodgshun - Catchmercurial
Derek Dolan Fáilte Ireland
Nancy Donnelly Tourism Saguenay-Lac-Saint-Jean, Quebec
Chris Doyle Adventure Travel Trade Association
René Du Terroil Iran Doostan Tours
Diego Escobar Napo Wildlife Center Eco-Lodge
Ricardo Fahrig Zbulo! - Discover Albania
Tami Fairweather test
Francisco J. Figueroa Exito Travel
Emilija Fildishevska Macedonia Travel
Milica Filipovic Chamber of Commerce of Serbia
Carolin Fincke Arctic Yeti
Rosaleen Fitzpatrick Fáilte Ireland – National Tourism Development Authority
Ardalan Foroutan Iran Doostan Tours
Tiago Fortuna ComunicAir - Discover Azores
Tia Froehle Visit Anchorage
Teresa Fuchs-Mustaff Horwath HTL
Moria Gaarani Medraft
Kelly Galaski Planeterra
Javi Galvez Arctic Yeti
Raúl Garcia Advantage Travel
Lykke Geisler Yakaboylu Visit Greenland
Tereza Georgieva Adventure Travel Trade Association
Ani Geradze Mountain Resorts Development Company
Kliton Gerxhani Albania-Kosovo-Macedonia Holidays
Tobi Gessler Ride Albania Mountain Biking
Graziano Giannini Montecatiniexpo
Angeliki Giannioti All in One Trip Organizer
Marija Golubovic Real Experience d.o.o.
Katina Goussetis World Fusion Tours
Leslie Graham Unravel Travel TV
Saskia Griep Better Places Travel
Vladimir Grigoryan Armenian Adventure Travel Association
Erjon Guri Elite Travel DMC - Lufthansa City Center
Sebastian Gutierrez Viatur Travel
Bettina Haas Alpsnet ( HMC)
Jonathan Haber Walkabout Scotland
Manfred Haeupl Hauser Exkursionen
Winfried Hagen Hagen Alpin Tours
Samer Hajric Green Visions
Angela Heald Checkfront
Michael Herrmann TourConnect
Mariano Hervas Wildthentic
Simon Heyes Senderos
Laurent Holdener TERRE CAMBODGE / ADVENTURE-EXPEDITION
Rob Holmes GLP Films
Amanda Horan Fáilte Ireland
Veselka Huljic &adventure Croatia
Trinh Huynh TourConnect
Kirsi Hyvaerinen PRÁTTO Consulting d.o.o.
Paul Ihry Office Régional du Tourisme des Ardennes Luxembourgeoises / Regional Tourism Board
Klajdi Imeri Elite Travel DMC - Lufthansa City Center
Ajay Jain Travel Writer / Photographer
Cajsa Jansson Visit Värmland
Nubia Jaramillo Galacruises Expeditions
Liane Jordan Deutscher Wanderverband Service GmbH
Thierry Joubert Green Visions Ecotours
Grant Jurgeneit Checkfront
Kareem Kader GHOHA HILLS LODGE SAVUIT
Therese Karlsson West Sweden Tourist Board
Gaby Karlsson Hain Dalsland Turist AB / Turistrådet Västsverige
Olena Kazmina Ornament Ukraine Travel Company
Hannah Keet Freelance Translator - Hannah Keet
Liver Khan Nanga Parbat Adventure Pakistan
AJ Kinney Matador Network / travelstoke
Ian Kinoti Amahoro Tours
Jeppe Klockareson Swedish Ecotourism Society
Elvis Kotherja Elite Travel DMC - Lufthansa City Center
Vinayak Koul SnowLion Expeditions Pvt. Ltd.
Felicia Krawczyk CaminoWays.com
Swadesh Kumar Shikhar Travels - India
Yvonne Küpper Fairaway Travel GmbH
Chhewang Lama Responsible Treks
Lone Lamark Skagakaia
Becky Last International Finance Corporation
Olja Latinovic Via Dinarica
Magdalena Leonvendagar Cocha DMC
Simon Lewis Travel Concept Solution
Richard Lewis what3words
Stephen Lioy Discover Kyrgyzstan
Xuan Liu Dragon Expeditions
Apple Liu Dragon Expeditions
Gabi Logan The Group Travel Leader
Pepe Lopez Apumayo expediciones PERU
Nigel Malone Adventure Junky
Stefanie Manton-Ward Heliconia
Nicole Marciacq Panama Tourism Bureau
Lucas L. Markowiecki TANGOL - DMC ARGENTINA
Fiona Marshall Macs Adventure
Dianna Martin Northern Cape Tourism Authority
Matt Masson Buffalo Tours
Oriol Mayol Pegu Travels
Chris McCarty kimkim
Tricia McConville Adventures for Singles
Seth McGuinness TourConnect
Casey Mead G Adventures
Bianca Meeuwissen My World Of Experiences Andorra-France-Spain
Marie-Pier Mercier Quebec Maritime
Alex Mereeb Checkfront
Monika Mikulec Dubrovnik Adventures
Marta Mills Transcaucasian Trail Association
Alona Mittiga Trekksoft.com
Nikola Mladenovic Adventure Travel Trade Association
Sacha Mlynek G Adventures
Eglantina Monteiro Companhia das Culturas
Andrew Morrison GLP Films
John Morse Adventure Junky
Amanda Mouttaki Amanda Mouttaki - MarocMama
Basim Mubarak Amani Tours
Emir Mulabegovic Balkanvibe
Ethna Murphy Ethna Murphy Consulting
Frank Mustaff Horwath HTL
Gulmira Myrzakmat Discover Kyrgyzstan
Jana Müeller Fairaway Travel GmbH
Ivan Nastic Wild Serbia
Tamara Natenadze Living Roots
Olivier Nau NORWIDE
Nemanja Neskovic Wild Serbia
Markus Neuer Tiger Trail Outdoor Adventures
Sammy Niego Condor Travel SAC
Mattias Nilsson La Balaguere
Szymon Nitka Znajkraj. Adventure travel blog
Antonio Nobile Caspin Journeys
Katja Nolan Maynooth University Campus
Daniel Noll Uncornered Market
Ana Novakovic iBikeBelgrade
Gunnar Nyström EverTrek
Ernesto Ocampo Matagalpa Tours Nicaragua
Alex Ohnona Selina Hostels
Phintso Ongdi Everest Summit Lodges
Aleksandre Onoprishvili Mountain Resorts Development Company
Vjeran Ortynski 4REAL ADVENTURE TRAVEL
Georgi Palahutev Palahutev Travel
Gorcho Pasev P GROUP BULGARIA
Laura Payne Outdoor Albania
Roberto Pedraza Grupo Ecológico Sierra Gorda
Jeremy Perrin Extreme Ireland Adventures
Marina Petrozzino Chile Nativo Travel
Frederik Pfältzer Terranova Touristik
Sergiy Pidmohylnyj Ukrainian Adventure and Ecotourism Association (UAETA)
Daniela Pisani Kallpa Tour Operator
Laura Popovac VMD Adventure Travel Croatia
Meenakshi Kumar Prabhakar Shikhar Travels India
Monica Malpezzi Price ExperiencePlus! Bicycle Tours / Cycle Europe
Michael Pötscher TourRadar
Tiffany Raif Questex Media Group
Javier Ramirez Cumbres Travel
Randy Randall TOURISM Santa Fe
Edward Reeves Drive Albania
Archil Rekhviashvili Explore Georgia Ltd.
Arsim Rexhepi Kosovo Holidays DMC
Gessica Ribichini Gazzella Viaggi
JIOVANNY RIVADENEIRA Napo Wildlife Center
Laurel Robbins Monkeys and Mountains
Pedro Rocha Live Love Ride - Bike Tours in Portugal
Michael Roehrig Trails of Indochina
Jimmy Rogers Maya Trails - Guatemala/Belize/Honduras
Javier Romero Gerbaud Aventuras Panama
Jennifer Ross Brand USA
Ira Rroco Adventure & Fun Albania
Loren Rroco Adventure & Fun Albania
Dalibor Rudan Fiore Tours & Adventure Croatia
Gilad Sade Wild-Trails
Linda Salentin Regional Tourist Office Mullerthal Region – Luxembourg's Little Switzerland
Tareq Samih Ashtar Tours
Manuel Sand Hochschule fðr angewandtes Management GmbH
Francisco Sandoval UXLABIL Eco hotels
Ilse Schoemaker Trekksoft.com
Joost Schreve kimkim
Audrey Scott Uncornered Market
Michel SFEIR TOURIST TUBE
Aaron Shang CAT,China Adventure Tours
Pushparaj Shetty Quark Expeditions
Avi Shrestha Everest Pioneer Trek Nepal (p) Ltd
Shahadev Shrestha Everest Pioneer Trek Nepal
Katia Silva Condor Travel SAC
Dante Simoncini Borsa Turismo Sportivo
Fuchsia Claire Sims Adventure Junky
Dené Sinclair Indigenous Tourism Association of Canada
Agata Skowron Podkarpackie Regional Association
Vicky Smith Earth Changers
Steven Soto Exito Travel
Mike Stewart PEAK Destination Management Company
Gabi Stowell ATTA
Peter Stricker Kajaani University of Applied Sciences
Jan Strik Vapues Tours
Lucas Studer Exito Travel
Emma Sullivan Trivago
Rene Suter CHASKA TOURS, COLOMBIA
Suwanto Suwanto Adventure Indonesia
Ia Tabagari Living Roots
Hugo TARAORE TOURIST TUBE
Debra Taylor Antarctic Logistics & Expeditions
Freek ten Broeke Better Places Travel
Min Than Htut Pro Niti Travel
Jens Thraenhart Mekong Tourism Coordinating Office (MTCO)
Jan Timmermans Boat Bike Tours
Martin Toomey CaminoWays.com
Nigel Tutt Fermina Hotel
JOHNSON Uankhide Almates Travels and Tours Ltd
Omar van Beek Global Discovery
Ralph van den Houten Avila Reizen B.V.
Esther van Dort Epic Tours El Salvador
Mike Varndell MalawianStyle
Jessa Venegas Incredible Adventures
Esther Verbueken Extreme Ireland Adventures
Jossie Verkerk Boat Bike Tours / Eurosail
Sebastian Villena Crillon Tours
Stefanie Waldner IDM Sudtirol / Alto Adige
Guido Weers Global Discovery
Ferdinand Weps TrainingAid
Karen Westergaard Deloitte Consulting LLP/ USAID Business Growth Initiative (BGI)
Maurice Whelan Ireland Walk Hike Bike
Warner Wilders Northwest Adventure Tours
Cathy Wolfe Connemara Wild Escapes, Ireland
Mark Wright The Adventure Connection
Hristo Yanev VisitBulgariaOn.com
John Zafaradl Leader Östra Skaraborg
Maria Zhorzhikashvili Explore Georgia Ltd.
Ardi Zhugjeli DTB Travel / Drive Albania
Annika Ziehen The Midnight Blue Elephant
Julian Zimmermann Terranova Touristik
Alex Zontos GR Cycling
Sukhbaatar Zookhuu Active Adventure Tours Mongolia LLC
Adi Zuka Balkanvibe
Arnar Már Ólafsson Icelandic Mountain Guides / Iceland Rovers

Sold Out!