AdventureConnect: ITB Berlin 2018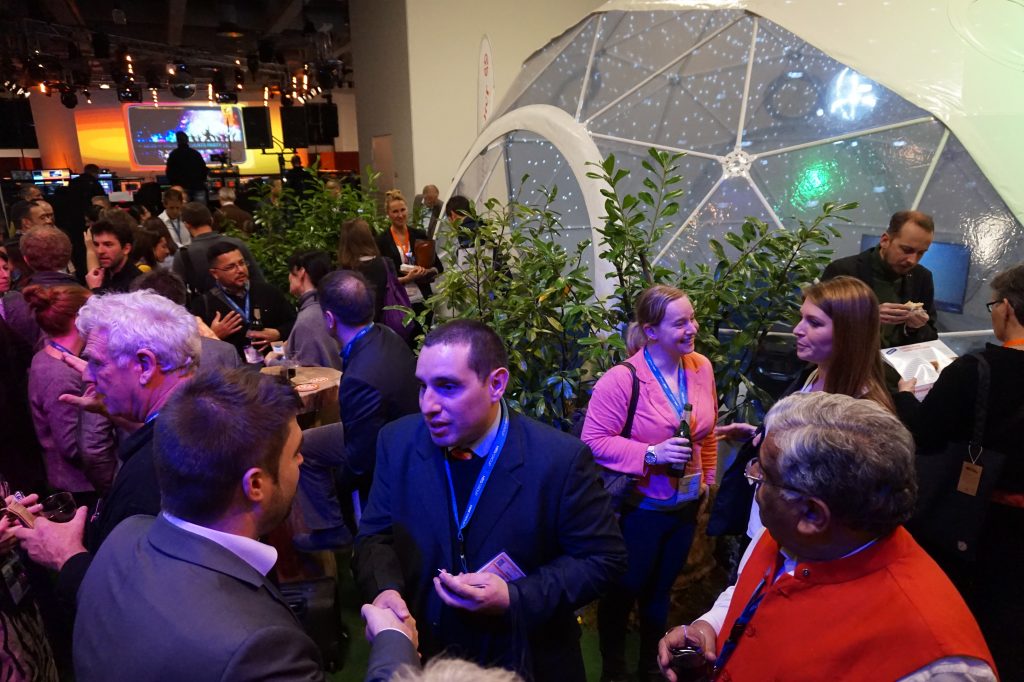 Due to the great interest, registration for this event is NOW CLOSED.
We may have more space available so we encourage you to register on the Waitlist. The ATTA team will be at #215 in Hall 4.1. so feel free to stop by during ITB.
---
This year, the AdventureConnect will place focus on the exciting dynamics and innovations that are shaping today's travel industry. The event, in partnership with Kiso Ontake Tourism Office, will seek to engage participants in a dialogue about the opportunities for market success fuelled by new developments and solutions, as well as the realistic chances for addressing our industry's leading challenges through innovation and collaboration. As usual, AdventureConnect will include a dynamic interactive networking session, which will enable community contacts and exchange of creative insights.
Based on an interactive overview of exciting developments in our industry ATTA will seek to facilitate interaction among all 200+ participants and generate creative ideas on how we, as a community, can continue advancing adventure travel in ways that enhance the traveler experience and makes a difference to places and communities. The aim of ITB AdventureConnect is to inspire you to:
Explore the opportunities that current innovations and new ways of thinking present to individual operators, destinations and our community as a whole
Find some new ideas that can be applied to your destination portfolio or the offerings of your company
Contribute to the collaborative exchange of ideas taking the adventure travel industry to the next level
Discover new connections and build new relationships (vs. simply exchanging business cards) to help your business or organization expand
On-site check-in REQUIRED.
As a part of the ATTA's overarching mission to serve as the hub and facilitator for responsible, profitable adventure travel businesses, destinations and media, AdventureConnect events offer our vibrant communities a chance to connect, network and grow. These events are hosted locally in destinations or conferences where the adventure travel community naturally gathers. AdventureConnects range from casual networking to group outings to structured peer-to-peer or educational roundtables. Access the full AdventureConnect event calendar for events near you.
Partner
Organizers
Attendees
saeed Akbar 1974
Misa Kolic A.C.E. Adventure
Erkan Kilim A1cyprus Holidays
Luke Scully Abraham Hostels and Tours
Gal Mor Abraham Tours
Robert Pinčević ACDC - Soul of Croatia / Anima Croatica Destination Company
Glenn Murray-Prior Action Culture GmbH
Ravi Tickoo ACTIVE INDIA HOLIDAYS
Thomas Karagiannis Adrenaline Hunter
Zlatan Jelovac Adriatic Sunshine Chicago doo
Raúl Garcia Advantage Travel
Ira Rroco Adventure & Fun Albania
Loren Rroco Adventure & Fun Albania
Steeve Degroote Adventure Colombia
Mike Eskenasi Adventure Iran
Noel Kileo Ahsante Tours and Safaris Ltd.
Vivi Knudsen Air Greenland
Helene Lyberth Steffensen Air Greenland
Melissa Foley All About Africa
Miles Bradley AmeriCan Adventures
Bram van Leeuwen Andean Travel Company
Laia Bergadà Canal Aniyami Brazil
Debra Taylor Antarctic Logistics and Expeditions
iris Danieli Aravaway
Javi Galvez Arctic Yeti
Susanne Schilcher Area 47
Christian Schnöller Area 47
Alvaro Arguedas ARMOTOURS
Ambros Gasser ASI Reisen / WeDesignTrips
NEENA JABBAL ASLAN ADVENTURE TOURS AND TRAVEL LTD.
Steve Wilson Aspiring Adventures
santhosh Kanakandath Assaraya Travel & Tourism
Snjezana Derviskadic ATA BiH Adventure Tourism Association in Bosnia and Herzegovina
Tami Fairweather ATTA
Gabi Stowell ATTA
Gergana Nikolova ATTA
Dan Austin Austin Adventures
Carol Austin Austin Adventures
Evgueni Spassov Authentic Bulgaria Ltd.
Nikolay Gachovski Authentic Bulgaria Ltd.
Paula Christensen Aysen Journeys
Wiebke Sattelberg Azimut 360
Eutychus Mbuthia Baisy Oryx Tours & Travel
Nikolay Lukanov Balkanity Travel
Rob Edmunds Bamba Experience
Laurent Steiner Bamba Experience
Alex Wittig Bamba Experience
Stuart Hart Banff & Lake Louise Tourism
Sammy Salm Best of the Alps
Clara Tenderini BEST TOURS
Saskia Griep Better Places
Jan Timmermans Boat Bike Tours
Rodrigo Coinete Bonito CVB
Saholy Razafindratsima Boogie Pilgrim
Sonja Gottlebe Boogie Pilgrim
Patrice Raoull Boogie Pilgrim
Robert Basiuk Borneo Adventure
Ugochi Duru Cadril F & Projects Limited
Nasser Hemmati Caravan Kooch
Carol Hay Caribbean Tourism Organization (CTO)
Eniko Borbolz Carpathian Escapes
Francisca Orrego Cascada de las Animas
Aaron Shang CAT,China Adventure Tours
Rene Suter Chaska Tours, Colombia
HUANG JIANTAO China Exploration
Iris Marischi Ciclofree
Hannes Groebner CLEARSKIES Expeditionen&Trekking
Alessandro Speciale ClubRelax by Soleto Travel ltd
Gregory Reeves Connections
David Benitez Content Cocktails LTD
David DiGregorio CornerSun Destination Marketing
Sebastian Villena Crillon Tours
Tom Besser CTB Services, Indotrek
Javier Ramirez Cumbres Travel S.L.
Javier Lardone Cycle Europe
Silvia Leoni Cycle Europe
Davide Guglielmi Davide Guglielmi - Contemporary Art of Travel
Josep CAPELLÀ DCB Turisme
Sultan Al Dhaheri Department of Culture & Tourism
Colin Piper Discover Dominica Authority
David Dittmar Dittmar Adventures
Patricia Massó Dominica Tourist Office / Tropical Consult
Vismante Apukaite-Liksiene Downtown Forest Hostel & Camping
Edward Reeves Drive Albania
Vicky Smith Earth Changers
Christian Morrison Ecochile Travel
Nabil Tarazi EcoHotels / Feynan Ecolodge
Wladimir Ortiz Ecuador Eco Adventure
Menas Ibrahim Eg Gate
Amany Al Torgoman Eg Gate
Oksana Grygorovych entdecke.net DMC GmbH
Rostek Ohlashennyy entdecke.net DMC GmbH
Asa Lind Chong Escapade Sweden
Linda Veråsdal Ethical Travel Portal
Arnaud Devanlay Evaneos
Kencho Palden Ongdi Everest Summit Lodge Pvt. Ltd
Gunnar Nyström EverTrek
Kristina Nyström EverTrek
Soren Langelund eWaterways Cruises Ltd
Jim Kane Exito / Culture Xplorers
Steven Soto Exito Travel
John Slocum Exito Travel
peter jungemann Exitotravel
Hamish Keith EXO TRAVEL GROUP
Esther Verbueken Extreme Ireland Adventures
Darren Laird Extreme Ireland Adventures
Fiona Monaghan Failte Ireland
Eric Stoen Family Travel Writer - Travel Babbo
Nigel Tutt Fermina Hotel
Matija Djokic FitCamp Montenegro
Andjela Lazarevic FitCamp Montenegro
Ei Thwe Aung Flymya.com
Pankaj Pradhananga Four season travel & tours
Christina Newberry Freelance
Hannah Keet Freelance Translator - Hannah Keet
Rajendra Bahadur Lama Friends Adventure Team P.Ltd.
Tricia Schers Frontiers North Adventures
Rosa Costa - AZORES Futurismo Azores Adventure
Miroslav Roncak FVW Medien GmbH
Casey Mead G Adventures
Gareth Hamilton G Adventures
Laura Huetter G Aventures
Lucero Cevallos Galacruises Expeditions
Shiva Rimal GAP Adventure Programme Pvt. Ltd
Daniela Wellnitz Genius Loci Travel
Carina Lombardi Genius Loci Travel
Peter J. Hoogstaden Genius Loci Travel
Marina Waser Globotrek - Member of Globetrotter Group Switzerland
Rob Holmes GLP Films
Andrew Morrison GLP Films
Marcus Allender Go-Myanmar.com
Camila Barp Gondwana Brasil
Thierry Joubert Green Visions
Karin Aman Göteborg & Co
Maarja Edman High Coast of Sweden
Marko LENARCIC Hiking & Biking Slovenia
Manuel Sand Hochschule fðr angewandtes Management GmbH
Gitta Paetzold Hospitality Association of Namibia
Einar Torfi Finnsson Icelandic Mountain Guides
Richard Casswell Indotrek
RENE RIJNS INEEDSWEDEN TRAVEL
Inma Gregorio Inma Gregorio - A World to Travel
Alexandra Sasse Innsbruck Tourismus
Emily Strauss International Accents Travel
Johann Besserer ioiAdventures
René Du Terroil Iran Doostan Tours
Saeed Azam Iran Doostan Tours
Ardalan Foroutan Iran Doostan Tours
Maurice Whelan Ireland Walk Hike Bike
Petros Antonopoulos Istion Yachting
Marek Szwed JAN-POL Incoming Tour Operator
Manon Cauchoix Japaventura - Ventura TRAVEL
Joe Dodgshun Joe Dodgshun - Catchmercurial
Chris BUrnie John Chase safaris
Christopher Imumolen JPTS International Inc.
Akhon Shah K2 PAKISTAN
Kevin Streit Kevin Streit and Associates
Eric Chamberlain kimkim
Chris McCarty kimkim
Steve Venton Kingfisher Journeys
Petra Unnützer kippdata GmbH
Alexander Schnapp kippdata GmbH
Takashi Yamada Kiso Ontake Tourism Office
Marjorie Matus La Balaguère
Mattias Nilsson La Balaguère / Purely Pyrenees
Katja Spitz Las Vegas Convention and Visitors Authority
Molly Castano Las Vegas Convention and Visitors Authority
Ulrika Larsson LWimages Studio
Mary Bess Mad River Boat Trips
Michael Vanderhurst Mammoth Lakes Tourism
Rodrigo Ontaneda Maquipucuna
Manager Maquipucuna
Bruno Wendling Mato Grosso do Sul Tourism Foundation
Jimmy Rogers Maya Trails - Guatemala/Belize/Honduras
Klaus Fielsch Metropolitan Touring Ecuador
Laurel Robbins Monkeys and Mountains
Jelena Backovic Montagna Travel Montenegro
Rajendra Sapkota Mosaic Adventure Pvt Ltd
Nico Graaff Mountain bike Tourism Forum
Elisabeth Leitner-Rauchdobler Mountain Lodges of Peru
Eduard Rauchdobler Mountain Lodges of Peru
Antonie Bauer Munich University of Applied Sciences
Andreea Feti NaluSur
Jose Martos NaluSur
Anika Giftge National Geographic Maps
Omar Gubernati Nature Trips by Soleto Travel
Shradha Shrestha Nepal Tourism Board
Martine Bakker New York University
ELlen Kachel NordNorsk Reiseliv AS
Per Arne Tuftin Norsk Reiseliv/Norwegian Tourism Partners
Arngrímur Arnarson North Sailing
John-Steve Linlokken Northern Norway Tourist Board - NordNorsk Reiseliv AS
Olivier Nau NORWIDE
Radostina Yotova Odysseia-In Travel Bulgaria
Gilles Audenaerde One Two Trek
Stephanie Mohrmann Ongava Game Reserve
Barbara Orioly
Miskola Abdulloeva Orom Travel
Georgi Palahutev Palahutev Travel
Rishabh Gupta PARADISE TOUR CO (I) PVT LTD
Aaron Hocking PEAK DMC
Hernan Acevedo Peak DMC Colombia
Martina Capel Phima Voyages
Martina Santamaria PimpMyTrip
Adrienne Lee Planeterra Foundation
Conny Bartl Polar Latitudes
Kumar Mani Thapaliya Precious Travels and Tours Pvt. Ltd.
Amrit Chhetri Precious Travels and Tours Pvt. Ltd.
Kirsi Hyvaerinen PRÁTTO Consulting & Global Ecotourism Network
Cristián Loustau Puerto Madryn - Patagonia Argentina
Bram Evers Pure Colombia Travel
Sarah Pybus Pybus Translations
JONAH RAMAMPIONONA RAMARTOUR Madagascar
Marija Golubovic Real Experience d.o.o.
Petra Gracin Real Experience d.o.o.
Alex Crevar Regional Cooperation Council
Marie Cecile Delaire Remota Patagonia Lodge
Chhewang Lama Responsible Treks
Nabelah Naber Retired from ministry of youth
Filipa Curto ROTA VICENTINA Association
Marta Cabral Rota Vicentina Association
PETROS BOUCHORIS RUNNINGREECE
Marco Verzucoli S-Cape Travel
Pier Giovanni Martini S-Cape Travel Italy
Kat Morgenstern Sacred Earth Travel
Naomi Lindfield Saddle Skedaddle
Kay Cliffe Saddle Skedaddle
Marck Thornton Sandeman\'s New Europe Tours
Sam Moiny Saxion University
Maria Widhyasari SeaTrek Sailing Adventures
Gonzalo Fernandez Sernatur
Marta Larravide Villagrán SERNATUR MAGALLANES - PATAGONIA CHILE
Shane Dallas Shane Dallas
Trish Mambinge Shearwater Adventures
Sheryl Lim Sheryl Lim - Travel Wander LLP
Mabel Cheang Sheryl Lim - Travel Wander LLP
Swadesh Kumar Shikhar Travels - India
Michel Awad Siraj Center
Hanna Glans Smålands Turism
Mar Naibi Snowmass Tourism
Jeroen Bruil SNP Natuurreizen
Alex Stoen So much left to discover
Raj Gyawali Socialtours
Jens Winter Solo inc/ Kiso Ontake Tourism
Chiara Dall'Aglio SviluppUmbria - Umbria Tourism Board
Yaroslav Avdiev Svoya Tropa Touristik
NABEEL FARIS TCA ABU DHABI
ADEBISI GBADEBO LUKMAN TEACHING
Roger Carter TEAM Tourism Consulting
Mark Wright The Adventure Connection
Lucy Palmer The Adventure Connection
Teresa Bennett The Natural Travel Collection Ltd
Teo van de Laar Theo van de Laar Consultancy
Theresa Resch Theresa Resch, beactivetours.com
Chris Lee Tourism Authority of Thailand
Ayodele Oyeneyin Trade Global Marketing Tours
Ferdinand Weps TrainingAid
Alina Mikolenaite Travel Addicts Club
Egle Bagdzevice Travel Addicts Club
Dave Brett Travel Dave UK
Michaela Urban, Travel Photographer Travel Intense
Eric Vohr Travel Intense
Serkan Aygoren Travel Servis
Yvonne Gordon Travel Writer
Lola Akinmade Akerstrom Travel Writer + Photographer
Laszlo Kardos Trekhunt
Peter Gadacsi Trekhunt
Akos Biro Trekhunt
Maarten Camerlynck TrekkSoft
Katja Schröppel TrekkSoft
Nicole Kow TrekkSoft
Franziska Wernet TrekkSoft AG
Kelly Smith-Glover U.S. Commercial Service
Daniel Noll Uncornered Market
Audrey Scott Uncornered Market
Catherine de Freitas Upstream Portugal - Try Portugal
Anula Galewska Urban Adventures
Maria Sirotkina Urban Adventures Gran Canaria
Jan Strik Vapues Tours
Matthew Harahush Vaya Adventures
Dawn Campbell Visit Anchorage
Lykke Geisler Yakaboylu Visit Greenland
Tanny Por Visit Greenland
Ninnan Stenmark Ahlen Visit Sweden
Johan Cavallini Visit Sweden
Patric Lindström Visit Sweden
Nils John Visit Sweden GmbH
Andreas Norum Visit Värmland
Hristo Yanev VisitBulgariaOn.com
Ekateryna Koritina VisitBulgariaOn.com
Anthony Bennett Wanderlust
Simon Bryson Wanderlust
Ramesh Wattal WELCOME TRAVELS
Ann-Charlotte Carlsson West Sweden Tourist Board
Stephanie Moynihan Wild N Happy Travel
rachel azriel nicklas wild spirit travel
Hermione Nevill World Bank Macedonia
Erion Kosovrasti Xplore Albania
Iris Bastiaens YŪGEN tours

Sold Out!