AdventureConnect: New York Times Travel Show
Friday, 27 January 2017 @ 5:00 PM - 7:00 PM

The New York Times Travel Show
Jacob K. Javits Convention Center
Room 1E14
655 W. 34th Street
New York, NY 10001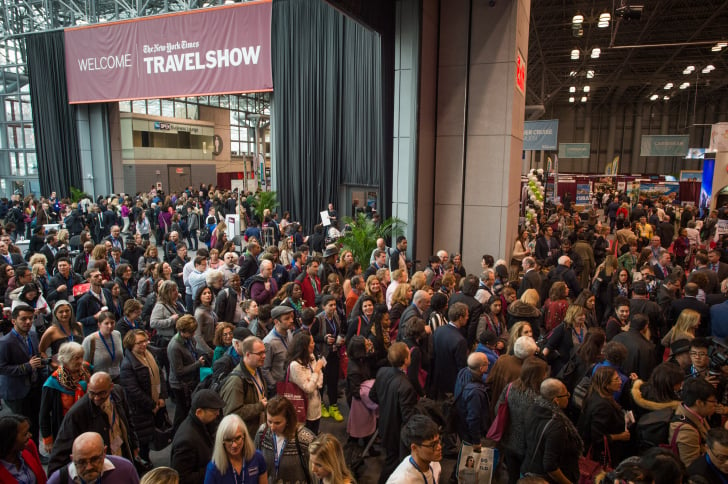 Join us at the 2017 New York Times Travel Show (NYTTS) on January 27th from 5-7 pm for an AdventureConnect social event immediately following the Focus on Adventure educational session with ATTA's Strategic Director of North America, Russell Walters; Vice President of Marketing & Communications, Casey Hanisko; and founder and owner of G Adventures, Bruce Poon Tip.
In special partnership with the show organizers and Chile, the ATTA invites all travel professionals with an interest in adventure, nature and cultural tourism to gather in this casual networking atmosphere. This is typically one of our most well-attended AdventureConnect gatherings of the year and provides a great space for productive and casual networking. Attendees will also have the opportunity to win door prizes from KUHL and Eagle Creek.
The Focus on Adventure session, entitled "Redefining Adventure Travel & Can Adventure Travel Cure What Ails Us?" with Casey, Russell and Bruce will cover the redefinition of the adventure segment of the travel industry and how offerings around the world have adjusted to meet the needs of travelers who seek meaningful, valuable and active experiences – not just trips.
To attend the full industry conference program including the Focus on Adventure session, ATTA Members can register for a full conference pass at a discounted rate (code: ADVENTURE). A free trade day exhibition pass is also available (for trade only), granting access to the AdventureConnect and trade exhibition only, without access to the session.
As a part of the ATTA's overarching mission to serve as the hub and facilitator for responsible, profitable adventure travel businesses, destinations and media, AdventureConnect events offer our vibrant communities a chance to connect, network and grow. These events are hosted locally in destinations or conferences where the adventure travel community naturally gathers. AdventureConnects range from casual networking to group outings to structured peer-to-peer or educational roundtables. Access the full AdventureConnect event calendar for events near you.
Partner
Organizers
Casey Hanisko
ATTA - President, ATTA // Adventure 360
Russell Walters
ATTA - Regional Director, North America
Tami Fairweather
ATTA - Event Media and Adventure Media Membership Manager
Attendees
Aktivni Odmor doo &adventure Croatia
Andy McKey ACM Partners
Nick Irons Adventure Ready
Susie Youn Adventures Within Reach
Peter Lintner Airline Pros
Allison Nash Alyson Nash - Elite Travel International
Elizabeth Anne Kyle Arigato Japan
Gina Forte Atelier Group LOOKTRVL.com
Tami Fairweather ATTA
Richard G. Edwards ATTA Advisory Board Member
Miles McAlpine Audley Travel
Andrew George Audley Travel
Scott Harrington Audley Travel
Vanessa Coleridge Audley Travel
Kristen Bor Bearfoot Theory - Kristen
Deirdre Campbell Beattie Tartan
Deborah Lewis Bredeson Outdoor Adventures
Lotay Rinchen Bridge to Bhutan
Michael Carroll Brown Harris Stevens
Shirley Bucket List Belles Bucket List Belles
Bob Burke Burke Travel Consultants
Simon Elliot Butterfield & Robinson
Carson Tang Carson Worldwide
Juan Lopez Chile Tourism Board
Debbie Feldman Chile Tourism Board
Georgette James Clynice Travel & Tourism Consulting
Correy Kustin Correy's Travel
Darius Morgan JR Crillon Tours
Daniel Suozzo Cruise Planners
Danielle Taylor Danielle Taylor
Sierra Brown DCI
Leire Cavia DCI
Tara Barnes DCI
Shayna Alston DCI
Sara Stark Deeper Africa
Karen Zulauf Deeper Africa
Kyrsten Cazas Development Counsellors International
Naureen M. Kazi Development Counsellors International
ROBIN BARONE DIPLOMAT BOOKS
David Stock Divergent Travelers - Adventure Travel
Lina Stock Divergent Travelers - Adventure Travel
Anuruddha Bandara Eco Team - Sri Lanka
Curtis Fox Education First
Celia Laskowski EF Education First
Andrew Macrae EF Education First
Sean Geehan EF Education First
Carly Buxton EF Educational Tours
Jane Behrend Emerging Destinations
Theresa Jackson Enlightened Journeys Travel
Darley Newman Equitrekking
Jeffrey Pawid Events 365 powered by Ticket Evolution
Shahadev Shrestha Everest Pioneer Trek Nepal Pvt. Ltd
Shiva Narayan Shrestha Everest Pioneer Trek Nepal Pvt. Ltd
Marcelo Muñoz Evoluzion Travel
Jim Kane Exito / Culture Xplorers
Francisco J. Figueroa Exito Travel
Nassim Ramzan Exotic Group Tours & Travel
Amin Ramzan Exotic Group Tours & Travel
Helena Papadelis Explora
Peter Bopp Family Travel Association
Eric Stoen Family Travel Writer - Travel Babbo
Joey Parr Freelance Writer
Adrienne Jordan Freelance Writer
Julie McCool Fun in Fairfax VA
Kim McCabe G Adventures
Matt Kirsch G Adventures
Steve Lima G Adventures
Lena Zubareva Girls Empowered by Travel
Patricia Stone Global Adventuress
Mahendra Paudel Global Asia Tours and Travel
Rob Holmes GLP Films
lee alva Go2CR
MARIAN GOLDBERG GOLDBERG ON TRAVEL
Dan Hopkins GrassTrack Safaris, LLC
Alice Hough Green Team Global
Evie Phillips Green Team Global
Hugh Hough GREEN TEAM GLOBAL INC
Ami Greener Greener Travel Company, LLC
VENITE Sandra Guadeloupe Islands Tourist Board
Kari Eisenschenk Hampton Inn and Suites
Haobo Lai Haobo Lai Associates
Yuxi Shi Haobo Lai Associates
Stefanie Manton-Ward Heliconia
Stephanie Roles Intrepid Group
Nick Shuttleworth Intrepid Group
Itai Biederman Itai Biederman
Max Hoener J.MAK Hospitality
Jane Ann Cohen JAC Travel International
Jasmin Ford Jasmin Travels
JANET BARTOLI JAVA KAI DIGITAL
Janine Jervis Jordan Tourism Board
Omar Banihani Jordan Tourism Board
Ali Al Shabnan Jordan Tourism Board
Sarina Meissel K&W
Kelli Hilliard Kansas Tourism
Alex Buri kimkim
Chris McCarty kimkim
Elizabeth Kiss Koch International, Inc.
Cyndi Chan Koch Travel
Kristen Hanifin Lake George Regional Chamber & CVB
Kevin Crowley Landscapes on the Run
Janisha Anand Lastmilr
Carolina Kronwald Latam Airlines
Gustavo Rivas-Solis Latitude PR
Nathalie Pilovetsky Latitude PR
Peter Lehman Lehman International
Darrel Schoeling Lindblad Expeditions
Cayce Frigon Maine Huts & Trails
Erin Connor Maine Huts & Trails
Jess Beer Maine Huts & Trails
Mike Varndell MalawianStyle
MaSovaida Morgan MaSovaida Morgan
Vanessa Ponce Mava Travel
Charles McCool McCool Travel
Maxime Laurent Micro Local Trip
Jan Vislocky Mjv Travel
Fredrick Saturun Moonlight Tours Expedition
taneesha kulshrestha Musafir Namah
Al Merschen Myriad
Mary Anne Potts Naked Planet
JIOVANNY RIVADENEIRA Napo Wildlife Center
Diego Escobar Napo Wildlife Center Eco-Lodge
Damilola Adepoju Nateba60
Undraa Buyannemekh Nomadic Expeditions
Nancy DePalma Nomadic Expeditions
Natalia Stone NS Traveli
Hal Bringman nvpr
Paige Totaro Paige Totaro - All Over the Map
Daniel Grant Passages of Distinction
Adam Szymanski Passages of Distinction
Paul Cohen PHG Consulting
Ralph Velasco PhotoEnrichment Adventures
Michelle Giunti PhotoEnrichment Adventures
Barry Block PM Travel
Anna Cichonska Polish National Tourist Office
MARIA ABUABARA BRULHART ProColombia
Ashley Les Protravel International
Annie Levesque Quebec Adventure Outdoor | AEQ
Cynthia Dunbar REI Adventures
Jordan Stark REI Adventures
Kim Mace REI Adventures
Kevin Sullivan REI Adventures
Manager REI Adventures
Pamela Beck REI Adventures
Justin Wood REI Adventures
Renata Pereira RenataPereira.tv
Bob Hertzka Resorts Online
Christophe Pierard Ride & More Travel
Rachelle Perez Ripley's Believe It or Not! Times Square
Robin Whitney ROBIN WHITNEY INK
ALEX OKWESI BRUCE ROPRALEX LIMITED
Lorraine James Self
Bryan Oettel Self
Umesh Karki Self
Swadesh Kumar Shikhar Travels - India
Kristy Angellotti South Africa Tourism
Leila Belmahi SPARK Ideas
Craig Zabransky Stay Adventurous
Marie Iuliucci Stony Creek Ranch Resort
John Rasmus StoryDesk
Steven Kaplan Talent in Motion magazine
Jeff Bonaldi The Explorer's Passage
Gabi Logan The Group Travel Leader
Melissa Breton The Marmara Hotels
Jordan Sullivan The SmartFlyer
Meghan Aftosmis Thompson & Co. PR
Bonnie Cywinski Toca Travel
Max Cywinski Toca Travel
Joseph LaPolla Tour Guide
John Yonce Tourism Cares
Mai-Anh Dinh TourRadar
NORA Kustin TPI
LAUREN CHASE TRAVEL AGENCY
Mahtab Beheshti Travel and Discover Nature
Miryam Arboleda Travel Lines Express
Tom Bartel Travel Past 50
norman Tapper travelwithsteve
Juan Caicedo Travelzoo
Dominika Dryjski TravMedia
Lauren Michod TravMedia
Nick Wayland TravMedia
Kelly P. Sahner Trip Mate
Vladimir Kotevski Tryp By Wyndham
Brenda Irizarry Tzell Travel
Hudjy Dolce UC
Oscar Restrepo UCAdventures
Ashley Norman Uganda Tourism Board
dvora katoni universal Tours Inc
abraham katoni universal Tours Inc
Deirdre Frost Ventfort Films
Jeff Altman VIP Cruises and Travel
Hege Barnes VisitNorway
Kiki Paris Wanderlust Portfolio
Letier Santana Wanderlust Vixen
Renee Blodgett We Blog the World
Kathy Kass Will Run For Miles
Caroline Mongrain World Expeditions
Nathalie Gauthier World Expeditions
Abe Korn Worldwide Meeting & Event Services
Jasmine Chay Wyndham Worldwide
Lynn Espey Yampu Tours
Lance Caron Yampu Tours
Renee Bean Yampu Tours
Leslie Knobloch Zeno Group