AdventureConnect: New York Times Travel Show
Friday, 26 January 2018 @ 5:00 PM - 7:00 PM
The New York Times Travel Show
Jacob K. Javits Convention Center
Room 1E14
655 W. 34th Street
New York, NY 10001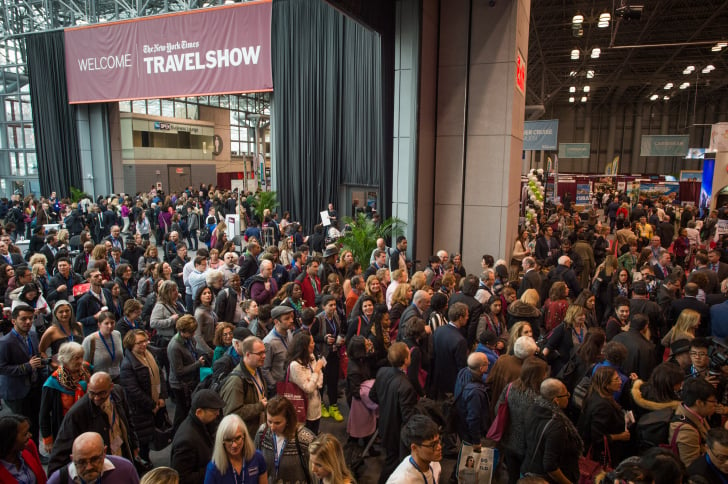 Join us at the 2018 New York Times Travel Show (NYTTS) on January 26th from 5-7 pm for an AdventureConnect social event immediately following the Focus on Adventure: North American Adventure Travelers educational session with ATTA's Strategic Director of North America, Russell Walters and ATTA President Business Services + Events, Casey Hanisko.
In special partnership with the show organizers and Destination Canada, the ATTA invites all travel professionals with an interest in adventure, nature and cultural tourism to gather in this casual networking atmosphere. This is typically one of our most well-attended AdventureConnect gatherings of the year and provides a great space for productive and casual networking. Attendees will also have the opportunity to win door prizes.
The Focus on Adventure session, entitled "North American Adventure Travelers: Seeking Personal Growth, New Destinations and Immersive Culture" with Casey and Russell will compare survey results from a recent benchmark study against those from a similar study conducted in 2006. The session will dive into what's changed and what's stayed the same in the Adventure Travel over the past ten years and will conclude by exploring ideas about what the future might hold for this exciting tourism sector with a group of special industry guests.
To attend the full industry conference program including the Focus on Adventure session, ATTA Members can register for a full conference pass at a discounted rate. A free trade day exhibition pass is also available (for trade only), granting access to the AdventureConnect and trade exhibition only, without access to the Focus on Adventure session.
As a part of the ATTA's overarching mission to serve as the hub and facilitator for responsible, profitable adventure travel businesses, destinations and media, AdventureConnect events offer our vibrant communities a chance to connect, network and grow. These events are hosted locally in destinations or conferences where the adventure travel community naturally gathers. AdventureConnects range from casual networking to group outings to structured peer-to-peer or educational roundtables. Access the full AdventureConnect event calendar for events near you.
Partner
Organizers
Attendees
Andy McKey ACM Partners
Ada French Ada French - Charlie Brown Travel
Connie Haeder Adeona Odysseys/Adaro Adventures
Valerie Haeder Adeona Odysseys/Adaro Adventures
Nick Huggins Adventurous Pursuits
Veronica Baesso AFAR Media
Jerry W. Bird Africa Travel Magazine
Jerry W. Bird Africa Travel Magazine
clinton swai Ahsante Tours & Safari ltd
Melissa Foley All About Africa
Carrick Buss Along for the Trip
Dina Nath Regmi Alpine Explore Nepal (p.) Ltd
Dina Nath Regmi Alpine Explore Nepal (p.) Ltd
Sumitra Shrestha Alpine Explore Nepal (Pvt.) Ltd.
Carmenza Minot Americas Travel
Carmenza Minot Americas Travel
Francesco Contini Antarctica21
kristina smith Antarctica21
Jessica Herring Arena Destination
Arleta Cosby Arleta Cosby - Cosby Travel Consultants
Jenn Velez Around Eco
Ariel Azoff Atlas Obscura
Amy Brown ATTA
Lina Zeldovich BBC, Newsweek, Orbitz
Brian Cant Beattie Tartan
Allan Rios Beneath the Sea Inc
Allan Rios Beneath the Sea Inc
Denise Haywood Big Water Travel
Jennifer Suprenant Blossom Journeys
Anthony Brogno Blossom Journeys
Deborah Lewis Bredeson Outdoor Adventures
Deborah Lewis Bredeson Outdoor Adventures
Cecile Fouche Business France
Alessandra Fernandes BWT Brazil DMC
Ugochi Duru Cadril F & Projects Limited
Carson Tang Carson Worldwide
Charlotte Fuller CBS News
Lindsay Booth Cheap Air
Lindsay Booth Cheap Air
Dennis Cieri Cieri media
Carmenza Minotta Citibank
Taegan Walker Coastline Travel Advisors
Colleen Lanin Colleen Lanin
nicole lem Colwen Hotels - Courtyard by Marriott Edgewater
Elizabeth Henry Compass & Globe Travel
Yasmin Mana Cox & Kings
Jared Alster Cox & Kings, The Americas
Elise Boeger Cultural Platinum Network
Dana Freeman Dana Freeman Travels
Dana Freeman Dana Freeman Travels
Dave Hall Dave the Traveling Music Man
Sierra Brown DCI
Amalia Meliti DCI
Amalia Meliti DCI
Jim Delillo Delillo Photography
Roberta Kravette Destination : Wildlife
LAUREN CHASE DESTINATION TRAVELER
Jim Brody DestinationRecommended.com
Pawan Tuladhar Dharma Adventures
ROBIN BARONE DIPLOMAT BOOKS
Laura Matar Discover Dominica Authority
Kirk Reynolds Discover Outdoors
Kirk Reynolds Discover Outdoors
Lina Stock Divergent Travel Media
David Stock Divergent Travel Media
David Stock Divergent Travel Media
Oksana St John Drink Tea & Travel
Max St John Drink Tea & Travel
Sbusiso Zondi Durban Tourism
Ntombenhle Dlamini Durban Tourism
Norie Quintos Editor, NQ Media and Nat Geo Media
Carmen Ligia Martinez El Especialito newspaper
Jane Behrend Emerging Destinations, Inc.
Theresa Jackson Enlightened Journeys Travel
Theresa Jackson Enlightened Journeys Travel
Theresa Jackson Enlightened Journeys Travel
Darley Newman Equitrekking
Darley Newman Equitrekking
Asa Lind Chong Escapade Sweden
Anna Kasper Evaneos
Robert Wells Evaneos
Chloë Walford Evaneos
Anna Kasper Evaneos
Shahadev Shrestha Everest Pioneer Trek Nepal Pvt. Ltd
Shahadev Shrestha Everest Pioneer Trek Nepal Pvt. Ltd
eileen gunn FamiliesGo!
eileen gunn FamiliesGo!
Nancy Schretter Family Travel Network
Sandra Viens Forward Momentum Travel
Kirsten Alana Founder, Conversations with Locals
Kirsten Alana Founder, Conversations with Locals
Karen Loftus Freelance Writer
Joey Parr Freelance Writer
Jody Robbins Freelance Writer
Julie McCool Fun in Fairfax VA
Rosa Costa - AZORES Futurismo Azores Adventures
Ann Shannon Global Rescue
Karina Napier GLP Films
Karina Napier GLP Films
Kirsty Perring Goway Travel
Renate Graham Graham International
Alice Hough Green Team Global
Hugh Hough GREEN TEAM GLOBAL INC
Shuchi Vyas GuestBox
Brendan Mark Heliconia
Katie Rees Honduras Tourism Board
Kimberly Krusell Honu Travel, LLC
Marie Hunter Hunter Digital
Keith Henry Indigenous Tourism Association of Canada
John McMillen InsideJapan Tours
Emily Harley International Expeditions
Emily Harley International Expeditions
René Du Terroil Iran Doostan Tours
Jeannette Ceja Jeannette Reports
Chris BUrnie John Chase safaris
Kristen Gill Journalist & Founder / Kristen Gill Media
Gabriel Tobias Justice Travel
Amy Ballard JW Marriott Parq Vancouver and the DOUGLAS
Amy Ballard JW Marriott Parq Vancouver and the DOUGLAS
Kate Armstrong Kate Armstrong
Kate Armstrong Kate Armstrong
Chris McCarty kimkim
Caitlin Daulong Kingdom Cycling & Experiences
Collin Daulong Kingdom CYcling & Experiences
Steve Venton Kingfisher Journeys
Kristin Calabria Kristin Calabria
Linda Kundell Kundell Communications
Kristen Hanifin Lake George Regional Chamber & CVB
Kevin Crowley Landscapes on the Run
Chunnie Wright Law Office of Chun T. Wright, PLLC
Chad Gottesman LEEPGuru
Gary Landsberg LEEPGuru
Chad Gottesman LEEPGuru
Darrel Schoeling Lindblad Expeditions
Anna Samuels Lindblad Expeditions
Nicole Thornton Lindblad Expeditions
Nathan Reed Lunera
Chloe McCormack Malawian Style
Mike Varndell MalawianStyle
Mike Varndell MalawianStyle
MaSovaida Morgan MaSovaida Morgan
MaSovaida Morgan MaSovaida Morgan
Vanessa Ponce MAVA TRAVEL PERU
Alicia Huarca Mava Travel Service
Charles McCool McCool Travel
John Rasmus Men's Fitness
Alex Donahue Mint Travel
Mo Williamson Mo Williamson
Anne Wood MT Sobek
AIMEE GRAHAM MT Sobek
Kimberly Daley MT Sobek
Tanya Churchmuch MuchPR
Miraye Saddik Myriad Marketing
David Verde N/A
parashu nepal Nepal Vision Treks
Roni Weiss New York Travel Festival
Jillian Newman Newman Associates
Bobbi Citron None
Kelsey Frenkiel Norie Quintos Media
Natalia Stone NS Traveli
Laurel Remus NYS Dept. Environmental Conservation
Laurel Remus NYS Dept. Environmental Conservation
Laurel Remus NYS Dept. Environmental Conservation
neera sharma OM INC
Elyse Mailhot One Ocean Expeditions
Afton Edington One Ocean Expeditions
Michael Conway Outdoor Ninja
Paige Totaro Paige Totaro - All Over the Map
Paige Totaro Paige Totaro - All Over the Map
Samantha Geer Parq Vancouver
Daniel Grant Passages of Distinction
Paul Wimbert Paul Wimbert - Forward Momentum Travel
Ralph Velasco PhotoEnrichment Adventures
Barry Block PM Travel
Hermine Block PM Travel
Carina Svensson PolarQuest
Attendee Name Pending... PolarQuest
Johan Reuthammar PolarQuest AB
Carson Tang Powermastery
MARIA ABUABARA BRULHART ProColombia
MARIA ABUABARA BRULHART ProColombia
Natalie Cook Pure Adventures / Elemental Journeys
Iris Serbanescu PureQuest Adventures
Iris Serbanescu PureQuest Adventures
Jonathan Carroll Quark Expeditions
Amanda Wells Quark Expeditions
Annie Levesque Quebec Adventure Outdoor | AEQ
John Sheppard REI
Garin Carpenter REI Adventures
Kristen Lund REI Adventures
Garin Carpenter REI Adventures
Andy Kronen REI Adventures
Megan Behrbaum REI Adventures
Robert Hertzka Resorts Online
Bob Hertzka Resorts Online
Robert Hertzka Resorts Online
Rosemarie Clancy rewardexpert.com
Robert Rose Robert Rose
Jared Kahan Rustic Pathways
Nick Stanziano SA Expeditions
Michael Travers SeaTrek Sailing Adventures
Maria Widhyasari SeaTrek Sailing Adventures
Maria Widhyasari SeaTrek Sailing Adventures
Stephen Taranto Sendas Altas - La Paz On Foot
Sheila Michels Sheila Michels - Hometown Travel
Sheila Michels Sheila Michels - Hometown Travel
Les Medley Sign Post Publishing
Attendee Name Pending... Southwind Adventures
Charles Ryan Sticky Rice Travel
Jessica Yew Sticky Rice Travel
Eva Mossberg Stone & Compass
Franco Zuccoli Stone & Compass
Kim Tate Stuffed Suitcase / Vacation Mavens
Rosalind Bigg Suite Integrity Travel
Norman Patry Summer Feet Cycling
Martin Oester Switzerland Tourism
Isabelle Minder Switzerland Tourism
Steven Kaplan Talent in Motion magazine
Tamara Gruber Tamara Gruber
Tamara Gruber Tamara Gruber
Susan Portnoy The Insatiable Traveler | Freelance
Susan Portnoy The Insatiable Traveler | Freelance
Don Littlefield The Maine Brew Bus
Ethan Gelber The Travel Word
NISHANT PATEL The Vacationist LLP
Attendee Name Pending... Theresa Jackson - Enlightened Journeys Travel
Tonya Fitzpatrick Tonya Fitzpatrick
Tonya Fitzpatrick Tonya Fitzpatrick
John Yonce Tourism Cares
Mary Zinck Tourism Whistler.com
Chez Chesak Tracks & Trails
Angel Castellanos Travel Ambassador, INC
Martin Young Travel Leaders Network
Tom Bartel Travel Past 50
Dominika Dryjski TravMedia
Cindy Truitt Truitt Travel
Naureen Kazi TURNER
Shayna Alston TURNER PR
Brendan Fumagalli Tuur
Paul Cohen Uganda Tourism Board
Paul Cohen Uganda Tourism Board
Ashley Norman Uganda Tourism Board
Eric Aguirre Under30Experiences
Jonathan Kalan Unsettled
Brian Pearson Upscape
Xabier Eguren Virtuoso, Ltd.
Kiki Paris Wanderlust Portfolio
Renee Blodgett We Blog the World
Kathy Kass Will Run For Miles
Kathy Kass Will Run For Miles
Alisa Clickenger Women\'s Motorcycle Tours
Alisa Clickenger Women\'s Motorcycle Tours
Ian Fitzpatrick World Footprints LLC
Ian Fitzpatrick World Footprints LLC
Kristin Henning Writer Influencer/Travel Past 50
Federico Martinez Xotic Adventure Travel
Caroline Makepeace Y Travel Media
David Kartagener Young Travel Professionals (YTP)
Daniella Sirochinsky Zeno Group
Leslie Knobloch Zeno Group