AdventureConnect: Seattle, WA Holiday Gathering
Tuesday, 6 December, 2016 @ 6:00 PM - 8:00 PM
ExOfficio
114 Vine Street
Seattle, WA 98121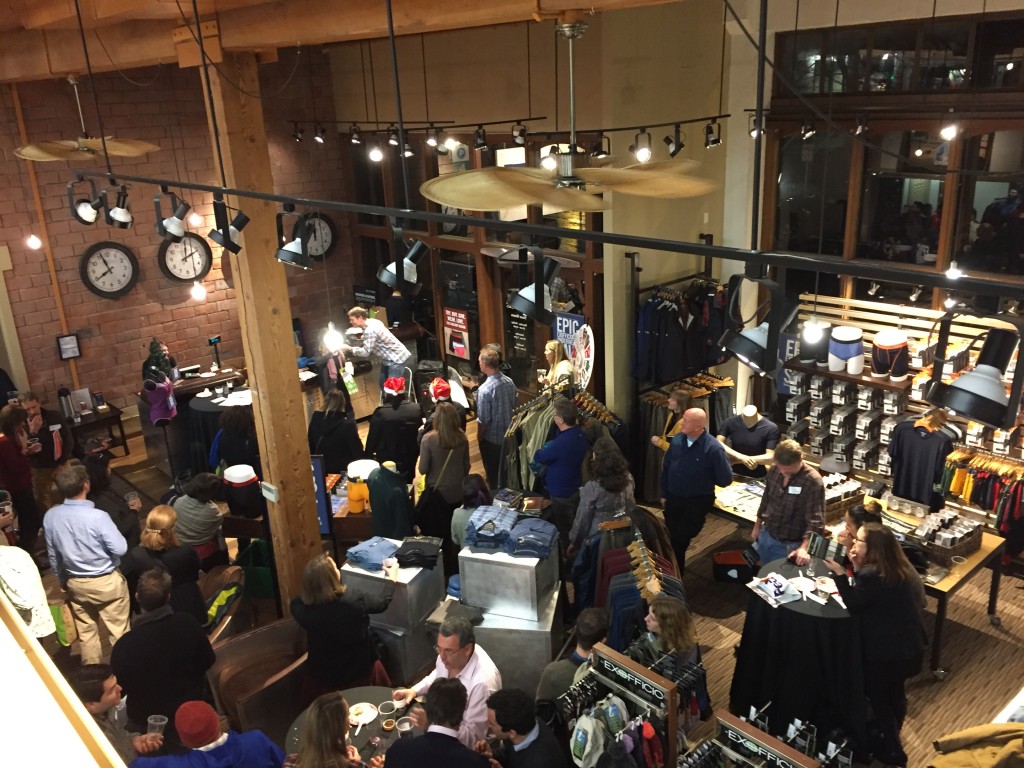 Join the ATTA, its regional AdventureConnect representatives and special visiting guests on Tuesday, December 6th from 6-8pm at the ExOfficio store in downtown Seattle.
As we ring in the winter holiday season and catch up on all that's occurred since the Adventure Travel World Summit in Anchorage, Alaska, this annual and popular gathering will feature casual networking among travel and outdoor professionals, plus an exclusive onsite shopping discount from ExOfficio with 10% of the evening's sales going to the Adventure Travel Conservation Fund. There will also be some exciting travel product giveaways from ExOfficio and New Headings, plus a local mountain bike adventure from Seattle Mountain Bike Tours.
Light appetizers, beer, wine, and soft drinks will be available thanks to our event partner The Tartan Group. A variety of local restaurants are within walking distance for those wishing to carry on after 8:00 PM.
As a part of the ATTA's overarching mission to serve as the hub and facilitator for responsible, profitable adventure travel businesses, destinations and media, AdventureConnect events offer our vibrant communities a chance to connect, network and grow. These events are hosted locally in destinations or conferences where the adventure travel community naturally gathers. AdventureConnects range from casual networking to group outings to structured peer-to-peer or educational roundtables. Access the full AdventureConnect event calendar for events near you.
Partners
Organizers
Attendees
Attendee Name Pending... Zegrahm Expeditions
Alan Alabastro Alabastro Photography
Rebecca Antuna Holland America Line
Diego Arelano EMBRATUR
Megan Behrbaum REI Adventures
Ambrose Bittner Red Lantern Journeys
Dan Blanchard UnCruise Adventures
Jonathan Borgida Southern Explorations
Maria Borisov ATTA
Robert Boroughs Schooner Zodiac
Crai Bower FlowingStreamMedia
Hal Bringman nvpr
Amy Brown ExOfficio
Jonathan Burnham Wildland Adventures
Lana Byal Elevate Destinations
Deirdre Campbell Indigenous Tourism Association of Canada
Alyson Chapin UnCruise Adventures
Candace Dempsey Stories & Photos
Gabriella Dries Bicycle Adventures
Cynthia Dunbar REI Adventures
Maddy Epstein ExOfficio
Brian Feldbloom Holidays for Humanity
Belinda Gardner REI Adventures
Jeremy Gieser Bicycle Adventures
Alice Gifford ATTA
Kristen Gill Journalist & Founder / Kristen Gill Media
Troy Glennon UnCruise Adventures
Jerrol Golden Holland America Line
Jasmine Goodnow Western Washington University
Shannon Groshong African Safari Company
Sandra Gutierrez LandingShortly
Amanda Hagar Trover
Courtney Hans REI Adventures
Julia Horn Peak 7 Adventures
Dale Jensen Dale Jensen and Associates
Jovan Johnson Cranberry, LLC
Neal KELLNER Neal Kellner - CM Travel 4FUN
Sean Koenig Zegrahm Expeditions
Alice Kupcik Salsa Retreat, LLC
Bill Kuper Digital Farm
Marcy LaMont New Headings
Tim Lau ExOfficio
Darryl Leniuk freelance media
TJ Little REI Adventures
Laura Keane Mandelkorn Go Custom Travel
Ted Mandelkorn Go Custom Travel
Brandelle McIntosh ExOfficio
Kassie McKnight Explorer X
Mona McPhee Miller Nash Graham & Dunn
Travis Merrigan GRAYL Water Purifiers
Mark Miller Everyday Productions
Karen Mitchell ExOfficio
Mike Moe Washington Tourism Alliance
Dan Moore Pandion Consulting & Facilitation
Riley Morton Riley Morton Productions
Brad Nahill Oceanic Society
Julia Nesbitt African Safari Company
Ryan Nuechterlein Backyard Backpacking
Kyle Ord Outdoor Research
Kris Parfitt OutdoorsNW magazine
Matt Paul Bicycle Adventures
Mick Pearson KAF Adventures
Andy Peraza Everyday Productions
Pam Perry Wildland Adventures
Derrick Peters Voxll
Sarah Pickard ATTA
Andrew Roberts Zegrahm Expeditions
Julie Robinson Bicycle Adventures
Julie Robinson Bicycle Adventures
Kamma Scott ExOfficio
Haley Shapley Freelance Writer/Editor
Soraya Shattuck Adventure Travel Conservation Fund
Caitlyn Shearer Pacific Alaska Tours
Jeffrey Skillman Guest
Joe Staiano Meaningful Trip
Tegra Nuess Tegra Stone Nuess Photography
Abby Suplizio ExpeditionTrips
Brian Thompson ExOfficio and Marmot
Gretchen Traut Adventures Within Reach
Amanda Vicari UnCruise Adventures
Jodie Vinson Longitude Books
Kelsey Wenger Wildland Adventures
Mona West Cascade Designs, Inc.
Beth Whitman Wandertours