AdventureConnect: World Travel Market London
Tuesday, 7 November 2017 @ 4:15 PM - 6:00 PM
World Travel Market London
South Gallery Rooms 7 & 8
ExCeL London
1 Western Gateway, Royal Victoria Dock
London Docklands, E16 1XL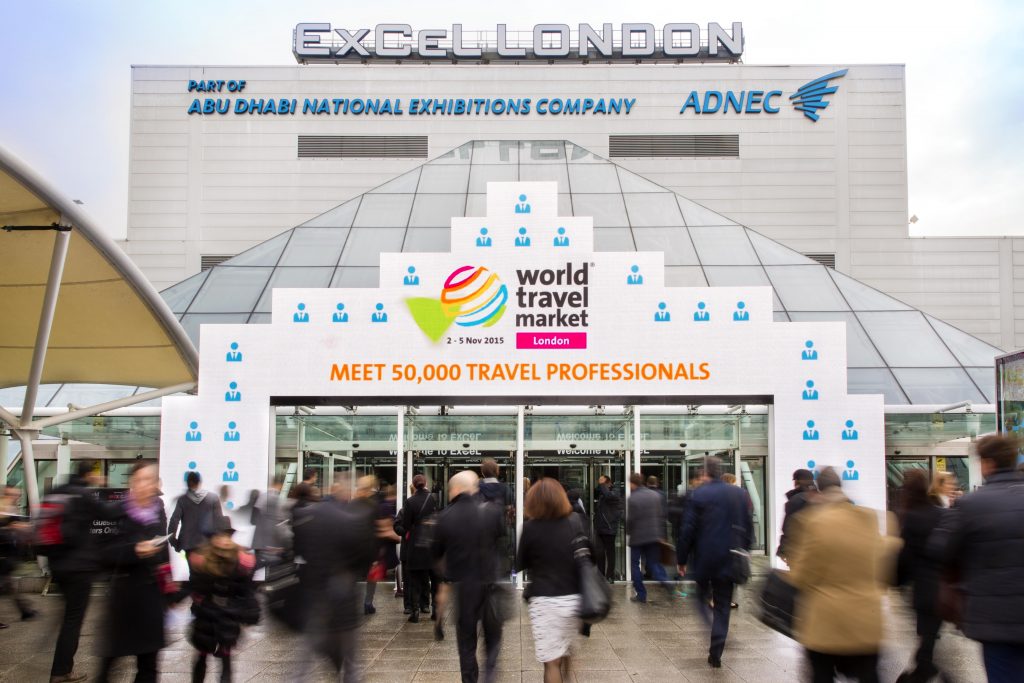 Save the date!
Join the adventure travel community at AdventureConnect WTM London on November 7 at 4:15 PM in South Gallery Rooms 7 & 8 to learn about global adventure tourism news and trends at a special hour and forty-five minutes session which includes a glass of Tuscan wine, followed by a social gathering in partnership with Toscana Promozione Turistica.
This annual AdventureConnect gathering at WTM London has proven to deliver productive networking among the passionate entrepreneurs and destination representatives of the burgeoning global adventure tourism sector–fostering collaboration, conducting business, and strengthening networks to unite, protect and lead responsible tourism efforts worldwide. At the event, you'll have the opportunity to share your story and hear others' using ONE WORD as an opening networking introduction to summarize what you and your company are about.
Among the creative outcomes participants can expect through ATTA community, we hope you will:
discover new connections to help your business or organization expand

establish quality relationships (vs. chasing business cards)

embrace professionals new to the adventure tourism sector

mentor others seeking guidance

share best practices

explore innovative paths to responsible tourism development

brainstorm on the most effective marketing and sales strategies

discuss the "big picture"

exchange ideas about what we're doing as passionate industry professionals to be brave, enact change and start a movement to positively impact the future of leisure tourism
ATTA team members will be on hand to meet with friends and members new and old, and share with prospective members about how to engage more deeply with our community.
Beverages and light hors d'oeuvres will be available to enjoy, courtesy of Toscana Promozione Turistica.
Registration and on-site check-in REQUIRED.
Come ready to engage and enjoy with your ONE WORD and plenty of business cards. And please, share this event with those in your circles whom you expect to attend WTM London 2017.
As a part of the ATTA's overarching mission to serve as the hub and facilitator for responsible, profitable adventure travel businesses, destinations and media, AdventureConnect events offer our vibrant communities a chance to connect, network and grow. These events are hosted locally in destinations or conferences where the adventure travel community naturally gathers. AdventureConnects range from casual networking to group outings to structured peer-to-peer or educational roundtables. Access the full AdventureConnect event calendar for events near you.
Partner
Organizers
Attendees
Rajesh Acharya Alpine Nepal Travel & Tours P. Ltd.
Marcus Allender Go-Myanmar.com
Sudath Andaraweera Rukdiyawewa Birds Society
Michael Andersen Danish Biking
Gary Arndt Everything Everywhere
Veronique Autphenne Veronique Autphenne - Pax Travel Design
Egle Bagdzevice Travel Addicts Club
Lokesh Bagga Tui España Turismo, S.L.U.
Martin Balcombe Caledonian Discovery
Raimond Barquero PureQuest Adventures
Jonny Bealby Wild Frontiers
Altynbek Begaliyev Logos Discovery
David Benitez CoCoA
Anthony Bennett Wanderlust
Ofir Birenbaum Tripology- Israel
Tom Bodkin Secret Compass
Eniko Borbolz Carpathian Escapes
PETROS BOUCHORIS RUNNINGREECE
Victoria Boughton Exodus Travels
Alex Buri kimkim
Emanuele Burioni APT Servizi Emilia Romagna Region
Alex Buzea Exos Travel
Tullia Caballero S-Cape Travel
Adina Camara Explore Romania
elisabetta cecchini Batani Select Hotels
John Ching Albatross World Travel & Tours PTE Ltd
Lyle Closs 50onward.com
TODD COPLEY ROVIA
Katy Dartford Katy Dartford
Jim Davis Ace Adventures
Sarah Davis HF Holidays
Gabriel Del Rossi Gabriel Del Rossi / Independent Travel Consultant
Amanda Delecca Himalayan Trails Adventure Travel and Tours (P) Ltd
Megan Devenish Exodus Travels
Aleksandar Donev Agency for Promotion & Support of Tourism of the Republic of Macedonia
Bart Donnelly Travel Alberta
Gabriel Dorch Visit Sweden
René Du Terroil Iran Doostan Tours
Claire Dunne CaminoWays.com
Paul Easto Wilderness Scotland
Georgina Eckersley Exodus Travels
Richard G. Edwards ATTA Board Member
Anton Eiguine Mobile Angels
Gary Elmes Tourvest Accommodation & Activities
Amy Ennis n/a
Einar Torfi Finnsson Icelandic Mountain Guides
Melissa Foley All About Africa
Vedran Forko Outdoor Croatia
Brendan Fox Sports Tours International
Svetlana Galler Baltic Alliance
Katja Gaskell globetotting
Thor Martin Gjerde Travel Traders AS
shiri Gordon Gordon Travel Group
Britt Gorniiok Innovation Norway
Pru Goudie Pru Goudie Consultancy Ltd
Carin Green Horisont Kajak
Alexandra Greenwood KE Adventure Travel
Simon Grove Explore!
Marko Grubisic Outdoor Croatia
Bisesh Gurung Namas Adventure Ltd
Ingibjörg Guðjónsdóttir Icelandic Mountain Guides
Chris Gwinner Adventure Guatemala
Jonathan Haber Walkabout Scotland
Elisabeth Hakim PROMPERÚ
Tom Harari Exodus Travels
BECKY HARRIS Viaventure & Travel Kinship
Arinbjorn Hauksson Icelandic Mountain Guides
Christy Hehir University of Surrey
Christy Hehir University of Surrey
John Hill Good Ski Guide
Rob Holmes GLP Films
Charlie Hopkinson Dragoman Overland
Elizabeth Hosier Project Cordillera
Lyn Hughes Editor-in-Chief, Wanderlust
Kristian B. Jorgensen Fjord Norway
Sari Kaarakainen S-Cape Travel Greece
Thomas Karagiannis Adrenaline Hunter
Anna Kasper Evaneos
Andrew Kellet Gravity Adventures
Noel Kileo Ahsante Tours and Safaris Ltd.
Erkan Kilim A1cyprus Holidays
Vinayak Koul SnowLion Expeditions Pvt. Ltd.
Nargiza Kudaiberdieva USAID BGI Project
Swadesh Kumar Shikhar Travels - India
Vicens L.Fletcher Fletcher Consulting Services
Ulrika Larsson LWimages Studio
Loredana Lechner Evaneos
Asa Lind Chong Escapade Sweden
Asa Lind Chong Escapade Sweden
Laura Lisowski Release Travel
Antonella Loffredo Genius Loci Travel
Roberta Losasso Genius Loci Travel
Matt Loveland Experience Jordan
Matt Malcomson Oku Japan
Manager Shikhar Travels India
Saty Manukyan Magic Travels
Ottavia Mapelli S-Cape Travel
Fiona Marshall Macs Adventure
Frits Meyst WideOyster Media
Frits Meyst WideOyster Media
Alina Mikolenaite Travel Addicts Club
shiv misra the adventure guys
Arild Molstad Molstad Consulting
Gal Mor Abraham Tours
Francois Morin Purequest Adventures Peru
Andrew Morrison GLP Films
Ethna Murphy Ethna Murphy Consulting
Russell Murray Wilderness Scotland
David Murray Sojourn Explorers
Gulmira Myrzakmat Discover Kyrgyzstan
Mar Naibi Snowmass Tourism Office (Snowmass, Colorado)
Karina Napier-Anderson GLP Films
Mattias Nilsson La Balaguere
Vjeran Ortynski 4REAL Adventurr Travel
Ayodele Oluwole Oyeneyin Trade Global Marketing Tours
Robin Paschall Adventures Within Reach
Laura Paterson Macs Adventure
Jo Payne Macs Adventure
Jeremy Perrin Extreme Ireland Adventures
Jeremy Perrin EI Travel Group
Christophe Pierard Ride & More Travel
Claudia Pinto Travel Consul
Silvia Placucci APT Servizi Emilia Romagna Region
Simon Poole Go Deep Travel
Monica Malpezzi Price Cycle Europe / BikesPlus
Monica Malpezzi Price Cycle Europe / BikesPlus
Monica Princic Exodus Travels
Yalamber Rai Thamserku Trekking
Gregory Reeves Connections
Marcela Rilovic Better Places Travel
Jimmy Rogers Maya Trails - Guatemala/Belize/Honduras
Robin Russell-Pavier KISO ONTAKE TOURISM OFFICE
Sarah Ryan Frost RowanStar Ltd
Gilad Sade Wild-Trails
Yoshihiro Sakurai Venture Republic Inc.
Mariana Sarciotto Evaneos
Noam Shanee Abraham Tours
Aaron Shang CAT,China Adventure Tours
Manoj Sharma India Exotica Travels Pvt Ltd
Tom Sheehan Pedalers
Shahadev Shrestha Everest Pioneer Trek Nepal
Yoni Shtern Yoni shtern
Pete Silvester WindowSeater
Anne Marte Solberg Travel Traders AS
Laurent Steiner Bamba Experience
Marcel Steinstrasser Evaneos
Emily Stiles KE Adventure Travel
Kevin Streit Kevin Streit and Associates
Jan Strik Vapues Tours
Alexander Stutely Endsleigh Insurance Services Limited
clinton swai Ahsante Tours & Safari ltd
Marek Szwed JAN-POL Incoming Tour Operator
Deborah Tarabusi Boogie Pilgrim
Debra Taylor Antarctic Logistics & Expeditions
Benas Terekas Travel Addicts Club
Jan Timmermans Boat Bike Tours
Daniel Torres EcoAndes Travel
Hugo Torres EcoAndes Travel
Daniel Torres EcoAndes Travel
Teo van de Laar Theo van de Laar Consultancy
Steve Venton Kingfisher Journeys
Steve Venton Kingfisher Journeys
Marco Verzucoli S-Cape Travel
Sara Vitali Slow Lake Como
Jerry W. Bird Africa Travel Magazine
Mark Wright The Adventure Connection
Hristo Yanev VisitBulgariaOn.com
Immanuel Zerger Solentiname Tours - Discover Nicaragua
Georgi Zlatarev Bulgaria Personalized
Georgi Zlatarev Bulgaria Personalized