AdventureConnect Bogotá
Thursday, 15 August 2019 @ 18:00 - 21:30
WhereNext
Calle 68 # 11-33 Bogotá, Colombia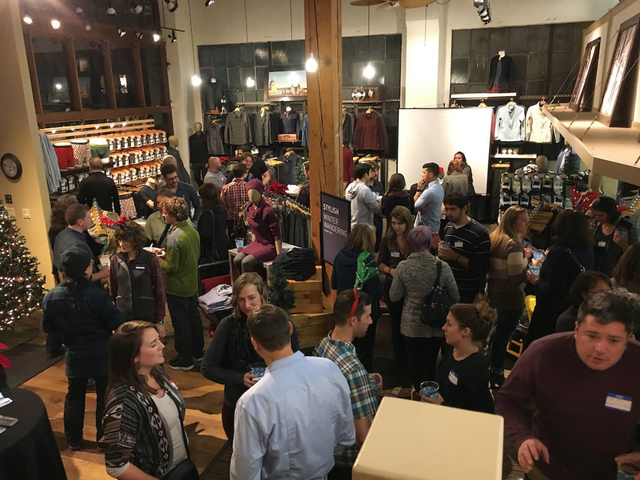 El equipo de América Latina de la ATTA, Bogotá, ACOTUR and WhereNext dará un evento social AdventureConnect, destinado a profesionales del segmento de Ecoturismo y Turismo de Aventura, en Bogotá, además de que nuestros partners de Bogotá y WhereNext ofrecerán algunos drinks a los invitados en las oficinas de WhereNext a las 19:00, no se olvide de traer sus tarjetas de visita para conectarse con los diversos profesionales de turismo que participarán del evento.
Como parte de la misión integral de ATTA de servir como centro y facilitadora para negocios, destinos y medios de ecoturismo y turismo de aventura, AdventureConnects ofrece a nuestra comunidad una oportunidad para conectarse y crecer. Estos eventos se organizan localmente en destinos o conferencias donde la comunidad de ecoturismo se reúne naturalmente. Los AdventureConnects varían de networking casual para salidas de grupo, o hasta sesiones educativas. Accede al calendario completo de los AdventureConnects para eventos cerca de ti.
Partners
Organizer
Gabriella Stowell
ATTA - Regional Director, Latin America
Attendees
Hernan Acevedo Sky Quest Travel
MAuricio alvarez posada BIKEISPASSION
Felix Ballesteros Baf Turismo Colombia
Julian Bernal Tovar Santaventura
Gregg Robert Bleakney WhereNext
Natalia Bohorquez Castilla Avianca
Giovanni Cadena BIKE Colombia
alejandro calderon AventuraYturismo.org
Luis Camargo OpEPA
John Fredy Cardona Bikes, Nature, & Hikes, Colombia
Sébastien Coeur Adventure Colombia
JORGE DAVID CRUZ VIAJES DESTINO EXTREMO
LAURA CRUZ MARQUES DE SAN RAFAEL
Andres Delgado kaishitravel
nathalia diaz portal del turismo
Laura Durana Asociación Colombiana de Turismo Responsable
Juan Durán ANATO
Juan pablo Echeverri Hacienda Venecia
Sandra Eichmann WhereNext
Janys Angélica Estrada Capital Cycling Group
Andrés Gámez Monte Adentro MTB
SARA HERNANDEZ ECODESTINOS
Stella Hernandez Velavia Colombia
María Angélica Jara Xplora Colombia
Juan Felipe Jaramillo De Borondo S.A.S.
Angelika Koehler Pure! Colombia
Helida Leon Chaska Tours, Colombia
Helida Leon Ecodestinos
David Londono Mejia Awake Adventures
Albert Marentes Ecoaventuras en Bici
Harold Martinez SKYPASS COLOMBIA
Natalia Montoya Pacóa Travel
Jair Moreno tellez Terra promissionis sas
Ingrid Nieto Travel GPS
Juan Ortiz The Colombian Project
Angela Ovalle South American Tours Colombia
Irma Oviedo Destino Extremo
Giselle Oviedo Santaventura
Johann Peña Glamping Colombia
Oscar Andres Rativa ANATO Capitulo Central
Carlos Rosero OpEPA
Julien Rouyrre Adventure Colombia
Georg Rubin KonTour Travel Colombia
Christian Ruiz Awake Travel
oliverio sanabria fuquene Experiencia Vip Tour Colombia 2.1
Diana Sarmiento SKYPASS COLOMBIA
Julia Serrano Aniyami Brazil
Alexander Sierra Baf Turismo Colombia
Gabriella Stowell Adventure Travel Trade Association
Rene Suter Chaska Tours, Colombia
Carolina Sánchez IDT
Yadira Tirado Baf Turismo Colombia
Ginna Torres 900439925-8
Hugo Eduardo Torres Tellez Experiencias Guatavita
Andrés Umaña Andes EcoTours
Sergio Velásquez TRAVEL SOLUTIONS COLOMBIA DMC
Guillermo Villoria Colombian Journeys SAS
Amalia Vásquez Murillo SIPPO Suiza
Juan Zambrano Bacata Bike & Tours
Anna Zdancewicz Tripsite

Sold Out!