AdventureConnect: New York Times Travel Show
Friday, 25 January 2019 @ 5:00 - 7:00 PM
New York Times Travel Show
Jacob K. Javits Convention Center
Room 1E14
655 W. 34th Street
New York, NY 10001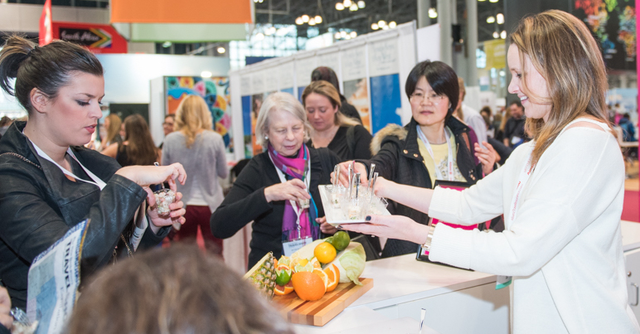 Join us at the 2019 New York Times Travel Show (NYTTS) on January 25th from 5-7 pm for an AdventureConnect social event immediately following the Focus on Adventure: New Opportunities, Working with Travel Advisors educational session with Christina Beckmann, ATTA's Senior Director, Strategy + Impact.
In special partnership with the show organizers and Tourism Australia, the ATTA invites all travel professionals with an interest in adventure, nature and cultural tourism to gather in this casual networking atmosphere. This is typically one of our most well-attended AdventureConnect gatherings of the year and provides a great space for productive and casual networking. Attendees will also have the opportunity to win door prizes.
In the Focus on Adventure session, entitled "New Opportunities Working with Travel Advisors" Christina Beckmann will compare survey results from two recent benchmark studies of travel advisors and tour operators. The session will delve into current trends from both segments of the Adventure Travel network and uncover new opportunities for collaboration between these two important sectors with a group of specially invited industry experts.
To attend the full industry conference program including the Focus on Adventure session, ATTA Members can register for a full conference pass at a discounted rate. A free trade day exhibition pass is also available (for trade only), granting access to the AdventureConnect and trade exhibition only, without access to the Focus on Adventure session.
As a part of the ATTA's overarching mission to serve as the hub and facilitator for responsible, profitable adventure travel businesses, destinations and media, AdventureConnect events offer our vibrant communities a chance to connect, network and grow. These events are hosted locally in destinations or conferences where the adventure travel community naturally gathers. AdventureConnects range from casual networking to group outings to structured peer-to-peer or educational roundtables. Access the full AdventureConnect event calendar for events near you.
Partners
Organizers
ATTA -
ATTA -
Attendees
Natalie Lauzon 50 Degrees North
Tietse Stelma 50 Degrees North
Jayde Kincaid 50 degrees North
Chris Boothman A Brit & A Southerner
Heather Boothman A Brit & A Southerner
Ashley Hubbard A Southern Gypsy
Andy McKey ACM Partners
Fiona Davies Active Adventures
Michelle Trapski Active Adventures
Ada French Ada French - Charlie Brown Travel
Connie Haeder Adeona Odysseys/Adaro Adventures
Valerie Haeder Adeona Odysseys/Adaro Adventures
Matthew James Swan Adventure Canada
Devon Bayly-Jones Adventure Canada
Veronica Baesso AFAR Media
Konstantin Gudz Airlinepros
Konstantin Gudz Airlinepros
Aislyn Griffin Aislyn Griffin
Tim Leffel Al Centro Media
Tim Leffel Al Centro Media
Alexandra Baackes Alex in Wanderland
Tessa Cramer Alpenwild
Ann Maresca Alpha J Travel
Benjamin IOAN ALTAI - Adventure Travel DMC Network
Any Garcia ALTAI - Adventure Travel DMC Network
Ivan Barba ALTAI - Adventure Travel DMC Network
Quentin Beauvy ALTAI - Adventure Travel DMC Network
Marion Caprion ALTAI - Adventure Travel DMC Network
Jean-Marie Rannou ALTAI - Adventure Travel DMC Network
Mark Baker Amazon Nature Tours
Carmenza Minot Americas Travel
Andrea Schnoor Andrea Schnoor Communications
Angie Orth AngieAway.com
Helen Usher Animondial
Adam Roberts Animondial
Francesco Contini Antarctica21
Arleta Cosby Arleta Cosby - Cosby Travel Consultants
Kasey Austin Austin Adventures
Dan Austin Austin Adventures
Andy Austin Austin Adventures
John Daw Australian Wildlife Journeys
Angela Anderson Banff & Lake Louise Tourism
Kate Rogers Beattie Tartan
Allan Rios Beneath the Sea Inc
Prashant Singh Bike Street Boys
Matt Lesperance Bike tours.com
Matt Lesperance Bike tours.com
Jack Delf Black Mountain Ltd
Cecile Blot Boundless Travels
Brandy Yanchyk Brandy Yanchyk
Deborah Lewis Bredeson Outdoor Adventures
Aline Monteiro BWT OPERADORA
Cameron Seagle Cameron Seagle - The World Pursuit
Lauren Hefferon Ciclismo Classico
Christian Mani COOK ISLANDS TOURISM NORTH AMERICA
Christian Mani COOK ISLANDS TOURISM NORTH AMERICA
David DiGregorio CornerSun Destination Marketing
Blaire Constantinou Cox & Kings
Chris Glendening Cox & Kings USA
Jared Alster Cox & Kings, The Americas
YASMIN MANA Cox & Kings, The Americas
Lorie Celseti Cruise Brothers
Paula Baas Cultural Cruises Europe
Joni Su Destination Nunavut
Tina Nleya Destination Nunavut
Karyl Leigh Barnes Development Counsellors International
Pawan Tuladhar Dharma Adventures
Laura Matar Discover Dominica Authority
Lucy Dixon Discover Dominica Authority
Colin Piper Discover Dominica Authority
Kirk Reynolds Discover Outdoors
Lina Stock Divergent Travel Media
David Stock Divergent Travel Media
Donna Zeigfinger Donna Zeigfinger - Green Earth Travel LLC
Amanda Morrison Don't Sit Home
Norie Quintos Editor, NQ Media and Nat Geo Media
Meredith McLennan Edmonton Tourism
Jane Behrend Emerging Destinations, Inc.
Gustavo Rivas-Solis ENroute Communications
carlos Lopez ENroute Communications
Polly Witker Epic Road
Darley Newman Equitrekking
Arnaud Devanlay Evaneos
Gary Arndt Everything Everywhere
Robin Brooks Exodus Travels
Lesli Downham Exodus Travels
Tony Perdomo Exodus Travels
Jake Haupert Explorer X
Lynn Henderson Fairmont Chateau Whistler
Rainer Jenss Family Travel Association
Colleen Kelly Family Travel PBS & Trip Sisters (Travel Channel and Travel & Leisure)
Colleen Kelly Family Travel PBS & Trip Sisters (Travel Channel and Travel & Leisure)
Tamara Don Female
Sue Reddel Food Travelist
Diana Laskaris Food Travelist
Robert Annis Freelance Journalist
Jody Robbins Freelance Writer
Joey Parr Freelance Writer
Jessica Finn Frontiers North Adventures
Robyn Murray Frontiers North Adventures
Casey Mead G Adventures
Casandra Rotunno G Adventures
Eduardo Cartaya G Adventures
Stacey Philipp G Adventures
Peter Worthing G Adventures
Jill Sala G Adventures
Eduardo Cartaya G Adventures
Amanda Dunning G Adventures
Aizaz Sheikh G Adventures
Jeremy Brady G Adventures
Ben Perlo G Adventures
Steve Lima G Adventures
Gina Zammit Gina Zammit
Rob Holmes GLP Films
Karina Napier GLP Films
Christina Thomas Go Epicurista
Adam Hodge Goway Travel
Renate Graham Graham International
Mary Gabbett Green Global Travel
Hugh Hough GREEN TEAM GLOBAL INC
Bret Love Green Travel Media
Volker Lorenz Greenlife Tours Ltd./Caminoways.com
Angel Trinh Guardian life insurance
Yuki Temma Heartland Japan
Keijiro Sawano Heartland JAPAN
Nicola Micklem Heartland JAPAN
Heidemarie Brandes Heidemarie Brandes
Heidemarie Brandes Heidemarie Brandes
Heidemarie Brandes Heidemarie Brandes
Stefanie Manton-Ward Heliconia
Lisa Grabelle Hilton Hotels
Achyut Dahal Himalayan Glacier Adventure And Travel Company
Danae Jones I Love New York
Diana Berchan Ignite Your Passion
Sebastien Desnoyers Indigenous Tourism Canada
Kamana Adhikary Indo Asia Tours
René Du Terroil Iran Doostan Tours
Nick Irons Irons Active
Jennifer Coleman Jennifer Coleman
Jennifer Coleman Jennifer Coleman
Jenny Willden Jenny Willden
Jenny Willden Jenny Willden
Omar Banihani Jordan Tourism Board
Samer Abu Taleb Jordan Tourism Board
Kristen Gill Journalist & Founder / Kristen Gill Media
Catie Keogh Key to the City Productions - \"Trip Sisters\"
Chris McCarty kimkim
Jennifer Kotlewski kimkim, Inc.
Kirsten Maxwell Kirsten Maxwell - Kids Are A Trip
Linda Kundell Kundell Communications
Kristen Hanifin Lake George Regional Chamber & CVB
Chunnie Wright Law Office of Chun T. Wright, PLLC
Andy Shuman Lazy Travelers (Net)
Anna Parry LDPR
Darrel Schoeling Lindblad Expeditions
Walter Perez Lindblad Expeditions
Kimberly Kyaw Lindblad Expeditions
David Skibinski Live More Adventures
Judith Ecochard Lyra Magazine
Judith Ecochard Lyra Magazine
Mercedes Hunt Map & Compass Consulting LLC
Jeff Grillo Marketing Manchester
Vanessa Ponce MAVA TRAVEL PERU
Alicia Huarca Mava Travel Service
John Rasmus Men's Fitness
Olga Solovyeva Mig
Mark Campbell Mountain Travel Sobek
Jessica Jones Mountain Travel Sobek
Kimberly Daley Mountain Travel Sobek
AIMEE GRAHAM Mountain Travel Sobek
Tanya Churchmuch MuchPR
David Verde N/A
Nancy Besharah Nancy Besharah
Nancy Besharah Nancy Besharah
Dynie Sanderson NapaFoodGalTravels
Jillian Newman Newman Associates
Kathleen Rellihan Newsweek Travel Editor
Brenda Isaac NiteIze
Lauren Kaufman NJF
Laura DiBetta NYS Department of Environmental Conservation
kayla Baker NYS Department of Environmental Conservation
kayla Baker NYS Department of Environmental Conservation
Rima Granado Oceanwide Expeditions
Franklin Braeckman Oceanwide Expeditions
Michel Van Gessel Oceanwide Expeditions
Kathie Callum Oku Japan
Elyse Mailhot One Ocean Expeditions
Alison Walker One Ocean Expeditions
Jenn Burling One Ocean Expeditions
Alison Walker One Ocean Expeditions
McGibbon McGibbon Outdoor Sports Guide Magazine
Chez Chesak Outdoor Writers Assoc. of America
Yan Baczkowski Outdooractive
Crai Bower Owner/FlowingStreamMedia.net
Maureen Flynn Parallel Meridian Travel
Maureen Flynn Parallel Meridian Travel
Katie Rees PHG Consulting
Katie Rees PHG Consulting
Katie Rees PHG Consulting
Ralph Velasco PhotoEnrichment Adventures
Barry Block PM Travel
Hermine Block PM Travel
Attendee Name Pending... PolarQuest
Adam Rheborg PolarQuest
Carina Svensson PolarQuest
Johan Reuthammar PolarQuest AB
Lillemor Främberg PolarQuest Expeditions
Susan Cathcart Ponte Travels
Camilo Duque ProColombia
Elisabeth Hakim PromPeru
Eileen Cotter Wright Pure Wander
Isabelle Cyr QuébecOriginal
Alexandra Leclerc QuébecOriginal
Megan Behrbaum REI Adventures
Kevin Sullivan REI Adventures
Chris Deveny REI Adventures
Garin Carpenter REI Adventures
Kristen Lund REI Adventures
Robert Hertzka Resorts Online
Rosemarie Clancy rewardexpert.com
Retha Charette Roaming Nanny/WHOA Travel
Robert Rose Robert Rose
Penny Peters Saint Regis Mohawk Tribe
Raeann Adams Saint Regis Mohawk Tribe
Karyn Locke Sand and Snow...and everywhere in between!
Steven Locke Sand and Snow...and everywhere in between!
Karyn Locke Sand and Snow...and everywhere in between!
Steven Locke Sand and Snow...and everywhere in between!
Elise Levyn Santa Monica Pier Corporation
Negin Singh Santa Monica Pier Corporation
Edie Heilman Sequoia Leadership Consulting
Sheila Michels Sheila Michels - Hometown Travel
Kathryn Simos Simos Productions, Eco Greco Trips
Jamie Ditranto SmarterTravel
Keira Clement Soca Islands
Joshua Smith South Africa Tourism
Ernst Flach South Australian Tourism Commssion
Juan Rodriguez South Expeditions
Michael Malara South Pole
Richard Weiss Strategic Travel Consulting
Steven Kaplan Talent in Motion magazine
Lisa Wilk Taste Cook Sip
Jodi Gaffey The Epicurean Concierge
Jeff Bonaldi The Explorer's Passage
Susan Portnoy The Insatiable Traveler | Freelance
John Mousseau The Moose Consulting
Vivian Chambers The Muse Collection
Rachelle Lucas TheTravelBite.com
Harley Tagliarino Toca Travel
Pablo Bettini Toca Travel
Tonya Fitzpatrick Tonya Fitzpatrick
Glen Davis Tourism Australia
Robert Keddy Tourism Australia
Rachel Roberts Tourism Sun Peaks
Kylie Smith Tourism Western Australia
Karen Goossen Tourism Winnipeg
Karen Goossen Tourism Winnipeg
Iris Serbanescu TourRadar
Kaitlyn Duggan TourRadar
Angel Castellanos Travel Ambassador, INC
Perry Lungmus Travel Leaders Network
Jillian Recksiedler Travel Manitoba
Tom Bartel Travel Past 50
Tom Bartel Travel Past 50
Roni Weiss Travel Unity
Lindsay Nieminen Travel Writer
Joe Luchison Travelzoo
Mark Ceslowitz Travmark
Jonathan Cooper TravPRO Mobile
PASANG B Sherpa Trek Himalayan LLC
PASANG B Sherpa Trek Himalayan LLC
PASANG B Sherpa Trek Himalayan LLC
Naureen Kazi TURNER
Naureen Kazi TURNER
Angela Berardino TURNER
Angela Berardino TURNER
Sierra Brown TURNER
Naureen Kazi TURNER
Adel Grobler TURNER PR
Ashley Norman Uganda Tourism Board
Sarah Scoltock UnCruise Adventures
Ethan Peck United By Blue
Paige Totaro Unquote Travel / All Over the Map
Jonathan Kalan Unsettled
Vanessa Nirode Vanessa Nirode
Veronique Autphenne Veronique Autphenne - Pax Travel Design
Tiffany Negrea Visit Wales
Hege Barnes VisitNorway
Vivienne Chapleo Vivienne Chapleo
Vivienne Chapleo Vivienne Chapleo
Keryn Means Walking On Travels/Twist Travel Mag
Keryn Means Walking On Travels/Twist Travel Mag
Kiki Paris Wanderlust Portfolio
Inge Dykman Wesgro
Tim Harris Wesgro
Cheryl MacDonald What Boundaries Travel
Lisa Chavis What Boundaries Travel
Gregg Robert Bleakney WhereNext
Allison Fleece WHOA TRAVEL
Trish Adams WHOA Travel
Amanda Chessa Whoa travel
Shawna Gardham Wickaninnish Inn
Kathy Kass Will Run For Miles
Kathy Kass Will run for miles
Kathy Kass Will Run For Miles
Kathy Kass Will run for miles
Jackie Marchand WomanTours, Inc.
Kit Fruscione WomanTours, Inc.
Ian Fitzpatrick World Footprints LLC
roberta Korcz World Nomads
Kristin Henning Writer Influencer/Travel Past 50
Tamara Elliott Writer/Photographer, Globe Guide
Nestor Lara Baeza Xhibition PR
Charlotte Pokoik XHIBITION PR
Wouter De Villiers XIV Travel & Events
Macon Dunnagan Zara Tours