AdventureConnect New York Times Travel Show 2020
Friday, 24 January 2020 @ 5:00 PM - 7:00 PM
New York Times Travel Show
Jacob K. Javits Convention Center
655 W. 34th Street
New York, NY 10001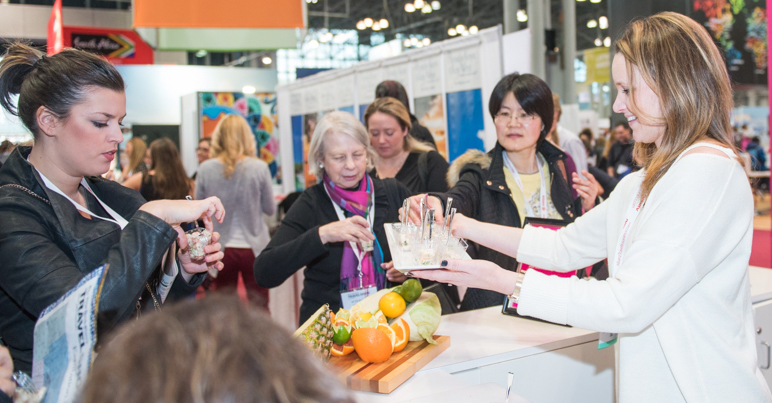 Join us at the 2020 New York Times Travel Show (NYTTS) for an AdventureConnect social event immediately following the Focus on Adventure session entitled "Adventure tourism. A source for good?" In this session Russell Walters will offer insights from a recent ATTA report "Shaping The Future of Adventure and Cultural Travel." A moderated discussion with a small group of specially invited industry experts will follow, featuring current examples of how adventure travel businesses and destinations are using adventure to bring positive outcomes to their clients and the communities they visit.
Focus on Adventure Panel
Kimberly Daley, President & CEO, MT Sobek
Andrea Ross, Managing Director, Wild Frontiers
Helen Usher, Director, Animondial
Karl Egloff, Director, Travel at World Wildlife Fund
Immediately following the session, ATTA along with Tourism Australia, invites all travel professionals with an interest in adventure, nature, and cultural tourism to gather in this casual networking atmosphere. This is typically one of our most well-attended AdventureConnect gatherings of the year and provides a great space for productive and casual networking. Attendees will also have the opportunity to win a GRAYL personal water purifier and a special prize from Tourism Australia.
As a part of the ATTA's overarching mission to serve as the hub and facilitator for responsible, profitable adventure travel businesses, destinations and media, AdventureConnect events offer our vibrant communities a chance to connect, network and grow. These events are hosted locally in destinations or conferences where the adventure travel community naturally gathers. AdventureConnects range from casual networking to group outings to structured peer-to-peer or educational roundtables. Access the full AdventureConnect event calendar for events near you.
Partners
Organizers
Attendees
Andy McKey ACM Partners
Kayleigh Cord Active Adventures
Connie Haeder Adeona Odysseys/Adaro Adventures
Valerie Haeder Adeona Odysseys/Adaro Adventures
Joe Dadey Adirondack Hamlets to Huts
Nancy Dorrans Adventure Marketplace
Katie Marta Africa Endeavours
Nick Jaksic Akorn DMC
Tim Leffel Al Centro Media
Søren Frederiksen Albatros Expeditions
Steven Dobbins Albatros Expeditions
Dilkumar Rai Alpine Paradise Treks and Expedition (P) Ltd.
Vanessa Marino Amazon Emotions
Dafne Larios Amazon Emotions
Laura Bisbee American University
Andrea Schnoor Andrea Schnoor Communications
ANIL KUMAR anil trading company.
Helen Usher Animondial
Francesco Contini Antarctica21
Arleta Cosby Arleta Cosby - Cosby Travel Consultants
Rachel Bouton Atlas Obscua
Megan Ryan Atlas Obscura
Annie Agnone Atlas Obscura
Alexa Harrison Atlas Obscura
Kirsten Madsen Atlas Obscura
Annabel Carroll Aurora Expeditions
Dan Austin Austin Adventures
Thomas Easley Austin Adventures
Kasey Austin Austin Adventures
Carol Austin Austin Adventures
Kelsey Millman Avenue PR
Henry Gilbert Back40
Angela Anderson Banff & Lake Louise Tourism
Terrilyn Kunopaski Bannikin
SEKIZIYIVU PAUL BANTU AFRICA TRAVEL
Alfonso Nuñez BASQUELANDS WAY
Mike Carpenter Bay of Fundy Adventures
Bill Fink Bill Fink
Bill Fink Bill Fink
BARBARA PEHL BP Travel
Deborah Lewis Bredeson Outdoor Adventures
Bayasgalan Gursed BT & TC Travel
Gaby Pierre Candystorenyc
Eniko Borbolz Carpathian Escapes
Carson Tang Carson Worldwide
Carson Tang Carson Worldwide
Cassandra Brooklyn Cassandra Brooklyn
Cat Lin Cat Lin - For Two, Please
Andrae Roberts-Dukes Celestyal Cruises
Gregory Miller Center for Responsible Travel
Benjamin Burtis Choose a Challenge USA
Lauren Hefferon Ciclismo Classico
Paula Harvey Consultant
Roger Wu Cooperatize
David DiGregorio CornerSun Destination Marketing
Kym Pham COSMIC JOURNEYS
Jeannette Candau Cruise, Tour, Travel, LLC DBA The Blue Walk
Suzy Schutz Cruise, Tour, Travel, LLC DBA The Blue Walk
Cathleen Richards Curated by Cath
Cathleen Richards Curated by Cath
Dana Freeman Dana Freeman Travels
Dave Hall Dave the Traveling Music Man
Jennifer Vigil Destination Panama City (PCCDC)
Jackie DeCarolis Destination Panama City (PCCDC)
Pawan Tuladhar Dharma Adventures
Jasmin Kizil Distinguished
Lina Stock Divergent Travel Media
David Stock Divergent Travel Media
Dayvee Sutton DN Media
Oksana St John Drink Tea & Travel
Max St John Drink Tea & Travel
Whitney Bowers Dutchess Tourism, Inc.
Norie Quintos Editor, NQ Media and Nat Geo Media
Meredith McLennan Edmonton Tourism
Zayra ortiz EDZAY Asesoría Turística
Jane Behrend Emerging Destinations, Inc.
Judy Carvalhal Enchanted Expeditions
Joshua Angermeyer Enchanted Expeditions
Leah Howe Equinox
Lizzie Herring Equinox Explore
Astrid Monfils-Wilson Equinox Hotel & Spa
Arnaud Devanlay Evaneos
Arnaud Devanlay Evaneos
Jim Kane Exito / Culture Xplorers
Lucas Studer Exito Travel
Eva Mossberg Experiential Expeditions
Colleen Kelly Family Travel PBS & Trip Sisters (Travel Channel and Travel & Leisure)
Eric Stoen Family Travel Writer - Travel Babbo
Giselle Almonte First in Service
Jim De Keyrel Florida Keys and Key West
Natasha Irich Fogo Island Inn
Rebecca McIlroy Fogo Island Inn / Shorefast Foundation
andrew jee forest travel agency
Christina Newberry Freelance
Lola Brown Freelance
Sunny Fitzgerald Freelance Journalist
Zoe Baillargeon Freelance Travel Writer
Suzie Dundas Freelance Travel Writer
Margo Pfeiff Freelance Travel Writer & Photographer
Joey Parr Freelance Writer
Carol Dundas Freelance writer
Jody Robbins Freelance Writer
Elizabeth Heath Freelance writer & editor
Barb Sligl Freelance Writer/Editor
Tom Popper Friendly Planet
Rajendra B. Lama Friends Adventure Team P.Ltd.
Tara Cappel FTLO Travel
Makayla Cappel FTLO Travel
Seth Baron FTLO Travel
Amanda Dunning G Adventures
Casey Mead G Adventures
Julia Menez Geobreeze
Maureen Wyse George Washington University
Tatia Khaindrava GEORGIAN NATIONAL TOURISM ADMINISTRATION
Tilly Hemperger GetYourGuide
Sarah Lowe GetYourGuide
Philip Ferentinos GetYourGuide
Jake Verbiest GetYourGuide
Varun Loomba Global Himalayan Expedition
Omar Share Globalscope
Rob Holmes GLP Films
Erika Piik GLP FILMS
Jen Leong GLP Films
Dorothy Dunne Golden Girl Tours
Renate Graham Graham International
Nitin Chauhan Great Escape Routes
Hugh Hough GREEN TEAM GLOBAL INC
Ami Greener Greener Travel Company, LLC
Angel Trinh Guardian life insurance
Edmund Charles GWE/American Express Travel Service Inc
Dinete kollanur GWSB
Stefanie Manton-Ward Heliconia
Lisa Jordan HI USA
Lisa Grabelle Hilton Hotels
Netanya Trimboli Hostelling International USA
Jessica Elliott How Dare She
Brea Burkholz Hurtigruten
Caleb Jackson Intrepid
Nicole Powell Intrepid
Leigh Barnes Intrepid Group
Jessica Tran Intrepid Travel
Nick Irons Irons Active
Connie Irons Irons Active Travel
Janet O'Grady Janet O'Grady
Mustajaba Hassan Jntour Company
Samer Abu Taleb Jordan Tourism Board
Janine Jervis Jordan Tourism Board North America
Kristen Gill Journalist & Founder / Kristen Gill Media
Alfonso Sumano Journey Mexico
Lauren Yakiwchuk Justin Plus Lauren
Kate Armstrong Kate Armstrong
Thorsten Keller Keller Media Office, Bonn/Germany
Chris McCarty kimkim
Jennifer Kotlewski kimkim, Inc.
Kristen Hanifin Lake George Regional Chamber & CVB
Mona Boyd Land Tours Ghana LTD
Nima Tashi Sherpa Last Frontiers Trekking
Chunnie Wright Law Office of Chun T. Wright, PLLC
Emily Desjardins Lindblad Expeditions
Carmen N Portela Local Guest, LCC
Evan McElligott Longer Vacations
Darrel Schoeling Longitude
Judith Ecochard Lyra Magazine
Mercedes Hunt Map & Compass Consulting LLC
Ian Centrone Martin County Office of Tourism & Marketing
Nerissa Okiye Martin County Office of Tourism & Marketing
Alicia Huarca Mava Travel Service
John Rasmus Men's Fitness
Tami lawlor Mermaid vacations
Kristyn Snell MODERNSPEAK
Jocelyn Pointkoski MODERNSPEAK
Abdelhadi Idrissi Morocco Immersion LLC
Abderrahman Idrissi Morocco Immersion Tours & Adventures
Laura Lash MSG
Kimberly Daley MT Sobek
Tanya Churchmuch MuchPR
Walter DeMirci Myriad Marketing
Nancy Besharah Nancy Besharah
Rodney Walsh Newfoundland & Labrador Tourism
Kristina Uselyte None
Laurel Remus NYS Dept. Environmental Conservation
Sarah Weisbuch NYU
Maria del Pilar Fernandez Oceanwide Expeditions
Kathie Callum Oku Japan
Kela Qendro Our Own Expeditions
Leslie Oh Outdoor Editor, Panorama Journal of Intelligent Travel | Writer | Photographer
McGibbon McGibbon Outdoor Sports Guide Magazine
Chez Chesak Outdoor Writers Assoc. of America
Scott Brills Pamoja Safaris
Artur Pegas Papa-Léguas / 09ºWest
Sophia Hyder Hock Papilia
Maureen Flynn Parallel Meridian Travel
Christina Paull PBS\' Family Travel / Trip Sisters Nat Geo T+L
Greg Wong Pegasus
Tim Post Polar Latitudes
Lana Wall Polar Latitudes
Niklas Nilsson Polar Quest
Sara Larsson PolarQuest
Emma Nilsson PolarQuest
Johan Reuthammar PolarQuest AB
Jodi Koskella Prontopia
Sally SIMMONDS Purely Pyrenees
Tanya Otis Pursuit
Jaime Lusher Qatar National Tourism Council
Dylan Fox Qatar National Tourism Council - USA
Nick Brennan Red Rock Adventure
Chris Pesenti RED Travel México
Matthew Lesperance Remote Lands
Nuryani Asari Remote Lands
Jeanne Bosse Remote Lands, Inc.
Bob Hertzka Resorts Online
Rosemarie Clancy rewardexpert.com
Robert Borowski Robert Borowski - Yolo Explorers Inc.
Veronica Baesso Ronnie Spirit
Jason Baron Scandinavian Airlines of NA
Sheila Michels Sheila Michels - Hometown Travel
Captain Swadesh Kumar Shikhar Travels (I) Pvt.Ltd.,
Roger Kirton Soca Islands LLC
Florence Li Songtsam Hotel Group
Ernst Flach South Australian Tourism Commssion
Michael Malara South Pole
Teresa Lang South Pole
Brian Matthews South Pole Group
Steven Speliotis Speliotis Video Production
Richard Weiss Strategic Travel Consulting
Paolo Lunardi Switzerland Tourism
Tamara Gruber Tamara Gruber
Michael Fox The Beach
Viola Ncube The Black Book Consultant
Juan Ortiz The Colombian Project
Laura Jara The Colombian Project
Juan Ortiz The Colombian Project
Samantha Geer the DOUGLAS
Jeff Bonaldi The Explorer's Passage
Sarah Gallo The Five Foot Traveler LLC
Victoria Walker The Points Guy
Molly Braswell The Prin Press
Megan O\'Malley Thompson & Co. PR
TIFFANY Richards TIFFANY\'S TRAVEL
Christable Pels Timewise Expo Travels
Tonya Fitzpatrick Tonya Fitzpatrick
Sonia Teruel Totonal Enlightening Experiences
Glen Davis Tourism Australia
Chris Allison Tourism Australia
Lindsay Gallant Tourism Calgary
Dean Jacobberger Tourism Cares
Tulene Steiestol Tourism Jasper
Laura Jones Tourism Northern Territory
Julie Earle-Levine Tourism Tasmania
Iris Serbanescu TourRadar
Tracy Schatz Tracy Schatz - Elite Travel Journeys
Rose Bolton Travel Alberta
Angel Castellanos Travel Ambassador, INC
Sherry Ott Travel Blogger Ottsworld.com
Brandielee Johnson Travel Incounters
Tom Bartel Travel Past 50
Laura Guimond Travel Portland
Claudia Laroye Travel Writer + Content Creator
Darley Newman Travels with Darley
Tamara Don Travels with Darley
Mark Ceslowitz Travmark
Shannon Guihan Treadright Foundation
Naureen Kazi TURNER
Ashley Norman Uganda Tourism Board
Yiming Chen University of Alberta
Marla Cimini USA Today - Freelancer
Antonio Brizzo v-adventures
Valentina Vallinotto V-Adventures
Vanessa Nirode Vanessa Nirode
Kelley Louise ViaHero
Greg Buzulencia ViaHero
Ninna Seerup Visit Denmark
Heli Mende Visit Finland
Dennis Englund VisitDenmark
Mette Ejlskov Hansen VisitDenmark
Magnus Lindbergh Visitsweden
Keryn Means Walking On Travels/Twist Travel Mag
Namon Armstrong Walking Stick
Nicole Lewis Wandering with a Dromomaniac
Kiki Paris Wanderlust Portfolio
Cheryl MacDonald What Boundaries Travel
Lisa Chavis What Boundaries Travel
Allison Fleece WHOA TRAVEL
Kylie Robertson Wild Frontiers Adventure Travel Ltd
Andrea Ross Wild Frontiers Adventure Travel Ltd
Jared Alster Wildebeest
Tom Buckley Wildebeest
Kathy Kass Will Run For Miles
Ian Fitzpatrick World Footprints LLC
Christina Tunnah World Nomads
Charles Parent-Moreau World Nomads
Meleena Bowers World Travelure
Steph Dyson Worldly Adventurer/Freelance
Kristin Henning Writer Influencer/Travel Past 50
Karl Egloff WWF World Wildlife Fund
Caroline Makepeace Y Travel Media
Craig Makepeace Y Travel Media
Mariyana Castleberry YOLO Dream Adventure Travel
David Kartagener Young Travel Professionals (YTP)
Macon Dunnagan ZARATOURS INC.

Sold Out!