AdventureConnect: Sapporo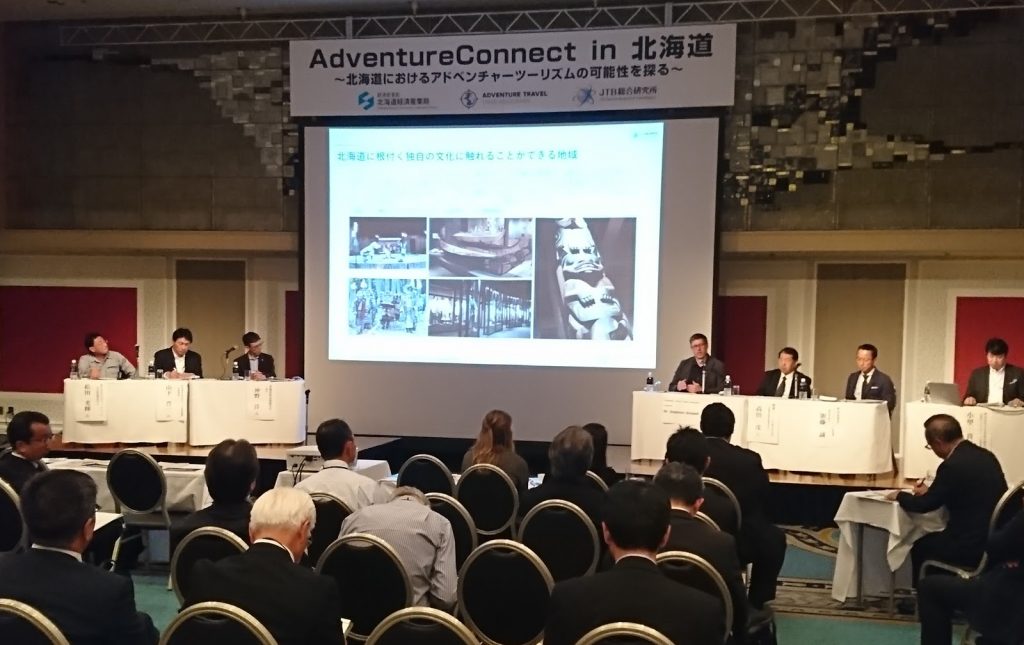 「アドベンチャーコネクトin 北海道」
~北海道におけるアドベンチャーツーリズムの更なる推進を目指して~
開催概要
【日時】 平成30年9月18日(火)14:00~17:00
【場所】 札幌ビューホテル大通公園 地下2階 ピアリッジホールA
【定員】 120名程度(参加費無料)
【対象】 道内アドベンチャーツーリズム関係者(行政機関、旅行会社、アウトドア事業者等)
【主催】 経済産業省北海道経済産業局、国土交通省北海道運輸局、(株)JTB総合研究所
【協力(予定)】
国土交通省北海道開発局、環境省北海道地方環境事務所、北海道、札幌市、釧路市、(公社)北海道観光振興機構、(特非)阿寒観光協会まちづくり推進機構、(独)中小企業基盤整備機構北海道本部、北海道経済連合会、(一社)北海道商工会議所連合会、北海道経済同友会、HATA(北海道アドベンチャートラベル協議会)
プログラム(予定)
 ◆AT市場概要・海外エリアでのATTA取組事例紹介【ATTA】
◆道東・阿寒エリアでのAT関連取組の実例紹介
◆ATTAと地域が連携するイベントの紹介【ATTA】
◆アドベンチャー・トラベル・ワールド・サミット参加について
◆ネットワーキング(名刺・情報交換)
………………………………………………………..
We invite the adventure travel community in and around Sapporo, Japan to a special three hour AdventureConnect with Hokkaido Bureau of Economy, Trade and Industry (METI), Hokkaido District Transport Bureau and JTB Tourism Research & Consulting Co.
Join ATTA CEO Mr. Shannon Stowell and ATTA Asia Regional Director, Dr. Jake Finifrock as they share global adventure tourism news and trends based on recent industry developments and ATTA research.
The ATTA representatives have been involved in training and development of Adventure Travel resources in Hokkaido during the past year, with Mr. Stowell fresh off of a visit to the Akan area. After a session in which he shares his findings and impressions of the improvements, Mr. Stowell and Dr. Finifrock will join the Q&A and discussion session about the type of growth that has taken place in Hokkaido as well as what improvements could be made to eastern Hokkaido's adventure tourism offerings.
Following the session, there will be time for networking and making new connections. Coffee and tea will be served during an intermission. RSVP required and there are a maximum number of spots for this event. Registration will close September 12th or when the event is full, whichever comes first.
IMPORTANT: For registration or inquiries, please email to [email protected]
As a part of the ATTA's overarching mission to serve as the hub and facilitator for responsible, profitable adventure travel businesses, destinations and media, AdventureConnect events offer our vibrant communities a chance to connect, network and grow. These events are hosted locally in destinations or conferences where the adventure travel community naturally gathers. AdventureConnects range from casual networking to group outings to structured peer-to-peer or educational roundtables. Access the full AdventureConnect event calendar for events near you.
Partners
Organizers
Shannon Stowell
ATTA - CEO, ATTA // Adventure 360
Jake Finifrock
ATTA - Regional Director, Asia
Attendees
Fumihiro Hara Hokkaido Development Engineering Center
Ayami Saga Hokkaido Development Engineering Center
Tomio YAMAGUCHI Hokkaido Development Engineering Center
Kozo TAKAHASHI Kyushu University
atsuhiro YOSHINAKA Rakuno Gakuen University
Peta Ohata Travel Hokkaido
Shunsuke Ohata Travel Hokkaido