AdventureConnect WTM London
Tuesday, 5 November 2019 @ 4:30 pm - 6:00 pm
Royal Victoria Dock
WTM ExCel London
Latin America Inspiration Zone LA 570
1 Western Gateway, London E16 1XL
Register
Free Registration Required
Share This Event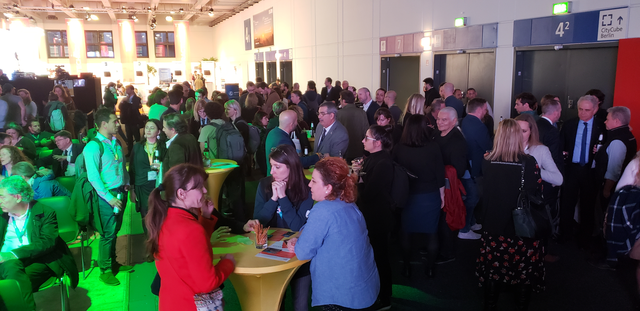 Climate Action – Collective Responsibility: 
Join the adventure travel community at WTM London for the ATTA's annual AdventureConnect event delivered in partnership with Peru and APL Media at 4:30pm in Americas Inspiration Zone – LA570.
Building upon the success of its September 2019 Adventure Travel World Summit in Gothenburg, Sweden, the ATTA has increased its commitment and accountability to accelerate climate actions for its own operations and to enable and encourage its global community of key stakeholders to do the same. 
During AdventureConnect, Gabi Stowell, Regional Director Latin America, will:
Share outputs from the ATTA's

20 September Climate Action Leadership Studio

Offer insights into climate education actions being developed and delivered for operators, guides and travelers

Address how the ATTA is tackling organizational accountability as well as how it is enabling direct action for the industry
Participants also will have the chance to engage in ATTA's signature social networking activities which often lead to productive collaboration, business development, and strengthening of networks.
Beverages and light hors d'oeuvres will be available to enjoy, courtesy of Peru and APL Media.
The ATTA team, represented by Manal Kelig, Executive Director, MENA Region and Chris Doyle, Executive Director for Europe & Central Asia will deliver a session on Destination-Smart For a Healthy Future in Adventure Travel. They will be accompanied by Dr. Taleb Rifai, ATTA Special Advisor and Raki Phillips, CEO of Ras Al Khaimah Tourism Development Authority (RAKTDA). The session will take place on 4 November at 1pm in MENA/ Africa Inspiration Zone. More information can be found here.  
As a part of the ATTA's overarching mission to serve as the hub and facilitator for responsible, profitable adventure travel businesses, destinations and media, AdventureConnect events offer our vibrant communities a chance to connect, network and grow. These events are hosted locally in destinations or conferences where the adventure travel community naturally gathers. AdventureConnects range from casual networking to group outings to structured peer-to-peer or educational roundtables. Access the full AdventureConnect event calendar for events near you.
Partners
Organizers
Gabriella Stowell
ATTA - Regional Director, Latin America & Caribbean
Chris Doyle
ATTA - Executive Director, Europe & Central Asia, ATTA // Adventure 360
Manal Kelig
ATTA - Executive Director, Middle East & North Africa
Attendees
Richard Campbell
10Adventures Tours
Lukas Savela
10Adventures.com Inc
Gabriela Milkova
Absolute Publishing Ltd.
Matt Turton
ABTA
Eve Coburn
ABTA
Henry Sisa
Adventure Journeys
Jane Harries
Adventure She
Helen Usher
Animondial
Daniel Turner
Animondial
Nicole Krumrey
Antarctica21
Pepe Lopez
Apumayo expediciones PERU
Alberto Brou
Apumayo Expediciones SAC
Chris Doyle
ATTA
Robert Basiuk
Borneo Adventure
Justin Weiler
Campfire Creative
Angie Guo
China Charmission Travel
alessandro speciale
ClubRelax by Soleto Travel ltd group
Tiago Fortuna
ComunicAir - Discover Azores
Sabi Khan
Contes Asia private limited
Ignacio Ocampo
Costa Rica Sun Tours
Mark Mezzapelli
CrowdRiff
Madhuri Chowdhury
Culture Trip
Celso Alaniz
Desert & Sea Expeditions
Pawan Tuladhar
Dharma Adventures
Isis Arlene Diaz-Carrion
[email protected]
Rosa Deustua
Doubletree Resort By Hilton Paracas
Ricardo Bracale
Doubletree Resort By Hilton Paracas
James Gambrill
Duplare
PHAN BAC
Easia Travel
Lyn Hughes
Editor-in-Chief, Wanderlust
Jeremy Perrin
Ei Travel Group
Esther Van dort
Epic Tours El Salvador
Ethna Murphy
Ethna Murphy Consulting
Meg Trendler
Eugene, Cascades & Coast: Travel Lane County
Vicky Boughton
Exodus
Adina Camara
Explore Romania
Britt Dalland
Fjord Norge AS
William Ruano
Flight Directors
Malcolm Macfarlane
Fuadan
Leah Whitfield
G Adventures
Emily Mikus
G Adventures
Katja Gaskell
globetotting
Natalia Curnic
GoAdventure
Iraklis Gkountromichos
Greek Adventure IKE
Alberto Molina
Green World Adventures
Gerald van Amerongen
Happy Trails Asia
Koen Ruisch
Happy Trails! Asia
Andy Tilby-Baxter
HF Holidays
Seb Shingler
Highlands and Islands Enterprise
Elín Sigurdardottir
Icelandic Mountain Guides
Claude cascino
Il tuareg
Brian Deninger
Incredible Adventures
Sean Clarke
International Rafting Federation (IRF)
Mehalah Beckett
Intrepid Group
Ardalan Foroutan
Iran Doostan Tours
Boris Tigges
Journaway.com
Amberley Shermon-Jones
Journey Mexico
Robin Pollak
Journeys International
Marie Grunewald
Just Boarded
Herman Hoven
Khiri Travel
Chris McCarty
kimkim
Megan Griffiths
kimkim
Kate Canney
kimkim
Eric Chamberlain
kimkim
Alex Buri
kimkim
Emily Strauss
kimkim
Kathrin Kloeti
Leeds Beckett University
Daniella Marcondes
Maembipe
Jeanine Pires
MATCHER TRAVEL BUSINESS OPPORTUNITIES
Jimmy Rogers
Maya Trails - Guatemala/Belize/Honduras
Elton Caushi
MEET Network (Mediterranean Experience of Ecotourism)
Julie Averay Cuesta
MMGY Myriad
megan devenish
Much Better Adventures
Chris Kearney
Much Better Adventures
Alex Narracott
Much Better Adventures
Jose Martos
NaluSur
Andreea Feti
NaluSur
Bisesh Gurung
Namas Adventure ltd
William Allen
National Geographic Traveller
Simeon Dimitrov
ODYSSEIA-IN Travel
Kathie Callum
Oku Japan
Shinichi Takahashi
Oku Japan
Nicola Allan
Oku Japan
Gilles Audenaerde
One Two Trek
matthew berna
PEAK Destination Management Company
Nathan Ward
PEAK DMC
Linda Biggers
Pura Aventura
Elizabeth Solis
Pure Central America
Bram Evers
Pure Colombia Travel
Fiorella Freyre
Pure Peru
Marta Lanfranco
Pure! Chile
Angelika Koehler
Pure! Colombia
Shannon Taylor
RightRez Travel Automation
Vishal Singh
Royal Expeditions
Tali Emdin
Sherpa Expeditions
Daniel Neilson
Sidetracked
Sara Vitali
Slow Lake Como
Daniele Corti
Slow Lake Como
Davide Bareggi
Slow Lake Como
Fiona FitzRoy
Sole of Corfu
Gregory Taylor
Sole of Corfu
Eleanor Scott
Strategy& at PwC
David Quispe
Sun Gate Tours
Beki Hunt
The Adventure People
Alice Elliot-Pyle
The Adventure People
Jess Millett
The Dragon Trip
Jeremy Sampson
The Travel Foundation
wendy moore
The Travel Foundation
Terry Brown
the Travel Foundation
Graeme Jackson
The Travel Foundation
Sonia Teruel
Totonal Enlightening Experiences
Adrienne Lee
Tourism Cares
Rhett Lego
Tourism Western Australia / The Conjoint Marketing Group GmbH
Catharina van Rijn
TourRadar
Rachel Woods
TourRadar
Steven Fantina
TourRadar
Alina Mikolenaite
Travel Addicts Club
Lina Januskeviciute
Travel Addicts Club
Egle Bagdzevice
Travel Addicts Club
Dave Brett
Travel Dave UK
Laura Guimond
Travel Portland
Shreehari Thapaliya
Trekking Team Group Pvt. Ltd
SHIRISH Thapaliya
TrekkingTeamGroup
Andrea Fierro
TROPIC
Matt Bryant
TUI Destination Experiences
Shaney Robertshaw Wright
TUI Destination Experiences
Jasper Wierda
Tui España Turismo, S.L.U.
Gustavo Pinto
Uakari Lodge - Mamirauá Reserve
Ali Akaak
University of Exeter
CLAUDIA CASCIO
VAGOVIA TRAVEL ADVENTURE
Indre Nagyte
Vamoos
Milly Morris
Vamoos
Heather Lobao
Vamoos
Jan Strik
Vapues Tours
Miriam Guzmán
Vapues Tours S.A.
Veronique Autphenne
Veronique Autphenne - Pax Travel Design
Hristo Yanev
VisitBulgariaOn.com
Paul Easto
Wilderness Scotland
Celine Fortin
Wildthentic
Mariano Hervas
Wildthentic
Luiz Eduardo Barcellos
WOFOUT
nathan fluellen
World Wide Nate
Steph Dyson
Worldly Adventurer/Freelance
daniel zimet
Zimet Marketing Comminication
Register
6 Spots Remaining!
Thanks for your interest in the ATTA's upcoming event. Please fill out this required form to register yourself. If you'd like to bring a guest, please have them fill out their own form for registration.
Reminder: ATTA will never sell or share your contact information.