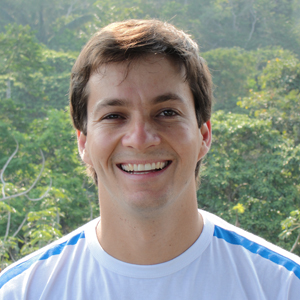 Gustavo Timo
Adventure Travel Trade Association
Gustavo Timo is one of the directors at Sextante Ltda, a consulting company specialized on competitiveness and innovation, as well as an ATTA Associate. He has been involved with adventure and nature travel for 16 years.
Gustavo has extensive experience in designing and coordinating capacity building projects for territorial development, industry and market development. He has worked as a project manager and a trainer for international projects.
He is one of the Brazilian Adventure Travel and Ecotourism Trade Association founders, and has served as an elected member of ABETA's Board of Directors and have worked  the organization general manager for five years.
At ABETA, Gustavo's focus is on developing, organizing and converging the adventure travel industry of Brazil.  ABETA is at the forefront of establishing standards and building qualifications and certifications systems in the main adventure travel destinations of Brazil.
Gustavo Timo is a project leader on the Adventure Tourism Working Group on the Tourism Committee at International Standards Organization – ISOTC228 and have been working for the development of international standards for Adventure Tourism worlwide.
Gustavo has experience as an adventure travel tour operator and consultant in adventure tourism market development in Brazil. Prior to his work at ABETA, he was Executive Director of Brasil Aventuras Expedições for 8 years, a Brazilian adventure travel company. At Aventuras Expedições he was responsible for developing new destinations, marketing, establishing strategic partnerships, training adventure travel guides and opening distribution channels in Brazil and internationally.  In his work as a consultant he supported the planning, development and marketing of nature destinations in Brazil and training entrepreneurs to manage nature based tourism.
His experience as an expedition leader and guide involves mountaineering, backpacking, canyoneering and overland expeditions all over Brazil for more than seven years.
Gustavo holds a graduation in Business Management, and post graduation in project management and a MBA in Business.
An experienced traveler, an outdoorsman and family man, Gustavo is an active diver, canyoneer, mountaineer and mountain biker, and now enjoy his time introducing his daughters to the outdoor world.
Expertise
Adventure and Nature Based Tourism
Adventure Travel Standards & Qualifications
Destination Development
Strategic Partnerships
Tourism Marketing
Guide Training
Distribution channel management
Entrepreneurial Development
Representative Past Clients
Adventure Travel Trade Association – ATTA, World Tourism Organization WTO, EMBRATUR, Brazil Tourism Ministry, ABETA, BRAZTOA, ABAV, Semeia.