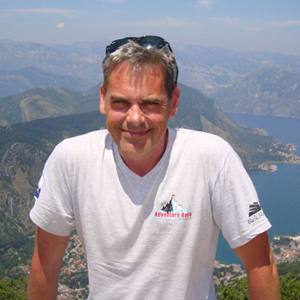 Jack Delf
Black Mountain Montenegro Ltd
Expertise
New and Emerging forms of Tourism, Adventure Travel, Sustainable Tourism.
Tourism Product Design and Development, Product Delivery, Sales and Customer Service.
Trade and Consumer Marketing Strategies; Market Research, Brand / Branding Strategy, Competitive Positioning, Marketing Planning, Advertising and Media (online in particular) – both for Businesses and Destinations.
Entrepreneurship, Business strategy – particularly for start ups and SME's. My main experience has been teaching these concepts in economies transitioning from centrally planned to free market (Eastern Europe).
Outdoor corporate and academic experiential learning, teambuilding, motivational and business training.
Representative Past Clients
Chemonics (USAID)
AED (USAID)
Council of Europe (Association of Cultural Tourism Exchange)
N.T.O. National Tourism Organisation Montenegro
United Nations Development Program
United Nations High Commission for Refugees
C.O.S.V. (Comitati di Coordinamento delle Organizzazioni per il Servizio Volontario)
Denver University Graduate Business School (for Outdoor Leadership and teambuilding training)
Training Client Testimonial Quote
In my capacity as Manager of the Council of Europe Programme dedicated to sustainable tourism, it is my pleasure to have the opportunity to act as a referee for Jack Delf. Jack is a highly competent consultant / trainer who assisted me with both the conceptual vision of my programme and its practical implementation. Jack has the unique skill set of impressive theoretical knowledge as well as practical, hands on experience gained from building and managing a company dedicated to sustainable tourism; this made his contribution to the development of my programme invaluable. Jack not only designs and delivers course materials that show great knowledge and enthusiasm for the subject, he is also a seasoned trainer in new and emerging forms of tourism, travel marketing and entrepreneurship for tourism SMEs. Jack is dynamic and remarkably personable and very generous with his time. These qualities as well as his willingness to contribute energy and ideas to improving the experience of learning meant that he was consistently ranked first in trainee evaluations over the four years he worked in my programme. My task in the Programme was to develop a replicable model for training of local operators in sustainable tourism along cultural routes. This work is now completed. Should the Programme expand next year and continue in other European regions, I would not hesitate to invite Jack to engage in it. – Madelena Grossmann, Manager of European Heritage Days Programme, Manager of Sustainable Tourism Capacity Building Programme, Directorate General II – Democracy
COUNCIL OF EUROPE
F – 67075 STRASBOURG Cedex
Tel: + 33 (0) 88 41 22 03
E-mail: [email protected]
Jack is very knowledgeable of the tourism sector and adept at designing bespoke training workshops and seminars to cater for a variety of audiences. It was a pleasure to work with Jack on a number of occasions and I always found him to be full of ideas, enthusiasm and energy for his work. – Miles Davis, Project manager, Comitati di Coordinamento delle Organizzazioni per il Servizio Volontario
milesdavis72mail.com