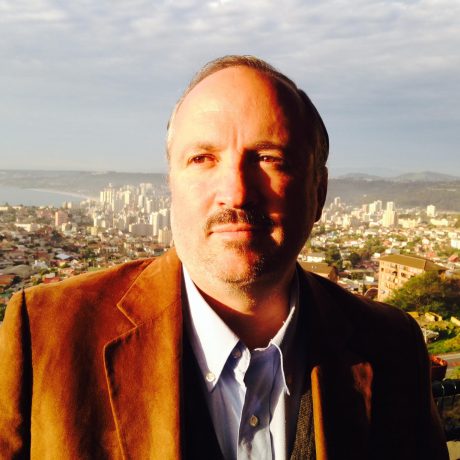 Jorge Moller
Jorge Moller has always been dedicated to nature and cultural tourism. In 1985 he began working with ecotourism and, in 1990, founded "Eco Travel" in Puerto Varas, located in the heart of the Chilean Lakes District. A pioneer in Specialist Interest Tourism throughout the country, Moller was additionally a founding member of Chile's Adventure Travel Regulatory Organization (C.A.T.A.) and the Tourism Corporation of Puerto Varas.
Always attempting to bring an environmental education perspective to the tourism experience, Moller became the owner of Darwin's Trails Chile. This joint English-Chilean inbound Tour Operator, with 20 years of experience, provides authentic, local experiences and contact with local people for clients visiting Chile and Patagonia.
Jorge works as a consultant with indigenous communities such as the Mapuches, Likan Antai, Yagan and Rapa-Nui to provide them with tools for sustainable development. As an active member on the Board of the Chilean Tourism Bureau, Moller promotes the destination of Chile in a sustainable way to include all types of experiences around Chilean territories and destinations.
Moller was also a teacher at the Universidad Católica and a strategic partner of Fedetur (awarding the Sustainable Distinction "S" to eligible up-and-coming hotels and tour operators).
In 2013, Moller participated in the GSTC Early Adopter Program in Chile and had the privilege to represent Chile's Lake Region at the GSTC AGM in Bonito, Brazil. He was instrumental in the co-founding and development of the South American Sustainable Tourism (SAST) Network, which came to be after this year's GSTC AGM and the ESTC in Bonito, Brazil.
Moller is also a GSTC Country Representative and trainer in Chile. He is the director of the Destination Sustainable Working Group at the GSTC and organized the 2015 ATWS in Puerto Varas. He is currently working with different Latin-American destinations like Robinson Crusoe Island, Cape Horn, Qhapac Ñan, helping to demonstrate their value and shine light on them for national and international markets.
Expertise
Tour Operator
Sustainable Tourism
Nature, Cultural and Community-Based Tourism
Patagonia
Marketing and Sales
Product Development
Destination Development
Representative Past Clients
SERNATUR Chile, CORFO Chile, EUROCHILE, TURISMO CHILE Tourism Bureau, Corporación Turismo Puerto Varas Chile,  GSTC: Board Member Country Rep Trainer, BIOSPHERA: Board Member, ATTA, RIVIERA MAYA SOSTENIBLE Mexico, CANAECO Costa Rica