Why You Should Join the ATTA
Our primary goal is to help your business grow and give you access to a global adventure travel community. Connect with a variety of businesses that will help you succeed from media, destinations and tour operators to suppliers, accommodations and specialty travel advisors. By becoming a member you can promote your products/services; secure new customers; tap into industry knowledge and research; and gain access to a global business community that values growing the adventure travel market responsibly.
A selection of our member benefits:
What is the ATTA?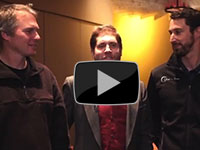 The adventure travel community shares their perspective on what the Adventure Travel Trade Association is.
Access 'The HUB' a members-only networking website. There, you can post photos and video, tune into forums, and network with thousands of other operators, media, service providers, and more.
Your company's profile or listing on the consumer adventure directory at www.Adventure.Travel (this website is supported by an international print media advertising and PR campaign).
ATTA's proven record of publicity generation in major media, including: the BBC, CNN.com, The Wall Street Journal, Shanghai Daily, The New York Times, USA Today, The Globe & Mail and many more. Additionally, we work closely with several key adventure travel publications such as National Geographic Traveler, Men's Journal, Wanderlust, and more.
Exposure in AdventureTravelNews™ newsletter (circ. 20,000+ adventure travel professionals globally); your company profile will show up here and you have the opportunity to submit press releases.
Knowledge Resources – research reports, Internet-based seminars (webinars) on important issues and business reports on various topics.
Discounts, Tools and Templates – an online member directory, MatadorU online education discounts, NXGEN credit card processing savings, legal template document library, use of the ATTA logo and more.
Adventure Travel World Summit discounted registrations for your company leadership. This trade-only conference is attended by 600 adventure travel executives and allows you to network with tour operators from around the world, build relationships with media, and promote your products to the industry's key players.
As an ATTA Member, your benefits are tailored to your business category — learn more about your member benefits by selecting your category below.